Native Union's head of design Fabien Nauroy describes their new rose-hued collection as a "softer look", a nod to the color trends led by the realm of fashion. The gentle hue joins the brand's well established collection of Lightning cables designed to soften the eyesore of cables strengthened by a reinforced structure engineered to endure the constant stress of plugging and unplugging.
Like previous Native Union cable offerings, each of the four Lightning cables are wrapped in a combination of nylon braiding on the outside, with a TPE rubber sleeve, protective tinned copper braid, nylon fillers, and DuPont

Kelvar® fiber strengthening the length from within. The combination is rated as six times stronger than standard charging cables (quantified by a rating of 10,000+ bends over the cable's lifespan; one bend = 90° clockwise bend with a 180° counter-clockwise bend). Additionally, the connector joint is reinforced for durability at the stress point where breakage commonly occurs, usually the result of pulls and tugs made in a hurry.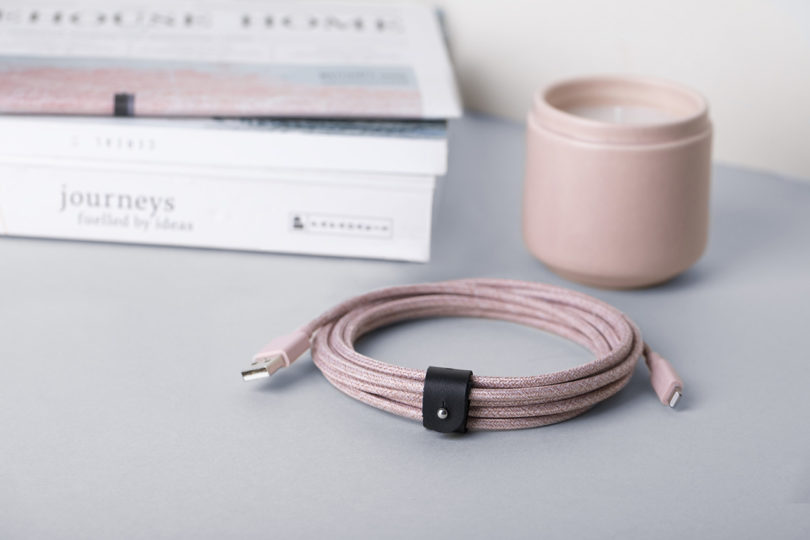 The new rose hued design may be soft and pleasing aesthetically, but we can attest the cables offer a functional durability that puts Apple's own Lightning cables to shame, all the while shucking off the trappings of the all-white cables accompanying iOS devices. The new Rose colorway can be purchased as a set or individually at the Native Union website.

Source: design-milk