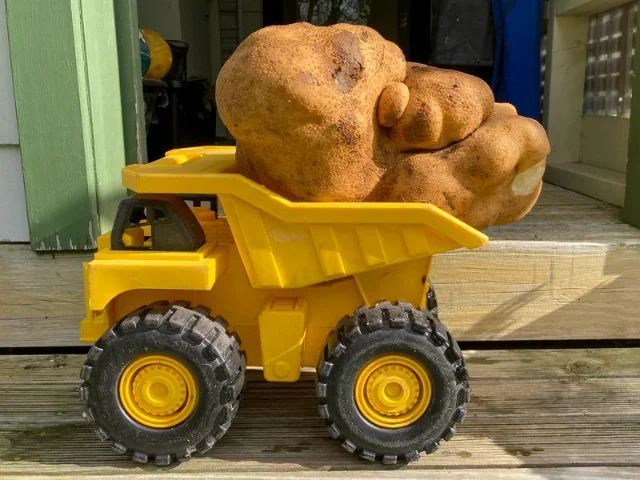 🥔 Colin and Donna Craig-Brown of New Zealand found a strange object in their garden that they thought was a puffball mushroom at first, but upon closer examination turned out to be a giant 17.4-lb potato the size of a small dog. Naturally, they named it "Doug" and built a small cart to tow it around. (Image: Donna Craig-Brown)
🏠 Psst, got $5 million? You can buy the narrowest house in New York City, which stands at 8'7″ (2.6 m) wide on the inside – that's a mere $48,500 per inch (practically a steal!). The house is actually surprisingly nice: Take a look inside.
🤖 Robots are taking our jobs, but at least they have the decency of cooking us some chicken at this fully automated KFC restaurant in Moscow that's run entirely by robots.
🛏️ Robots are taking our jobs, but we're not going to take that lying down … or are we? We are if we work lying down with this peculiar desk. (Note to John: ramming speed!)
🌮 Dream wedding at the world's most beautiful Taco Bell.
🍔 Well, these McDonald's may not be the most beautiful in the world, but they are definitely the most unusual. Behold, the weirdest non-standard McDonald's from around the world.
🐱 You've probably seen the images of the Topiary Cat's been making the round on the Internet. It turns out that it's a memorial for a pet cat, drawn by artist Richard Saunders. This is the story behind the viral Topiary Cat pics.
🦆 Lastly, something that'll bring a smile to your face: morning rush hour at an animal rescue farm.
More neat posts over at our new network of sites: Pictojam, Homes & Hues, Pop Culturista and Supa Fluffy. Please check 'em out!
Source: neatorama