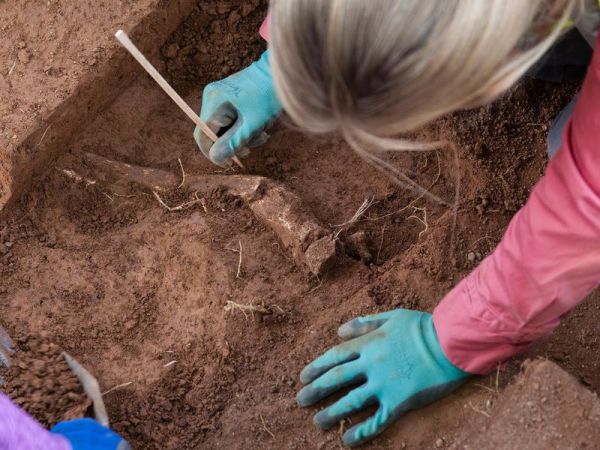 During both of the Battles of Bull Run in 1861 and '62, the Union Army suffered defeat and lost a lot of men. The battlefield near Manassas, Virginia, is now a memorial protected by the National Park Service. They do not normally allow the ground to be dug up, but a utility project in 2015 unearthed some curious human bones. Physical anthropologist Doug Owsley and forensic anthropologist Kari Bruwelheide investigated.
One bone in particular, an incomplete distal left femur found in more than ten separate pieces, leapt out at them. Cleanly sawn, the find piqued the pair's curiosity. "Knowing this is a Civil War battlefield," Bruwelheide says, "the first thing we think about is an amputation."

Owsley and Bruwelheide soon had much more to go on—additional scouting in the area of the first find turned up a human-excavated pit, dug a single foot deep, containing seven additional limbs and two virtually complete skeletons (one was missing its skull, likely due to farming activity during the years before the site became a National Park). Owsley and Bruwelheide set about doing what they do best: piecing together the story behind the bones.

"First, we had to determine whether this was First or Second Manassas," Owsley says. "There were two battles fought on this property." To help them assess the evidence, Owsley and Bruwelheide corresponded with park superintendent Brandon Bies. The location of the pit suggested the second battle, but it was two subtle aspects of the bones within that led Bies and his fellow park historians to reach an ironclad conclusion.
The team found subtle clues to determine which battle the bones were from, who did the amputations, and why the full skeletons were buried in the medical pit. Read the fascinating research that yielded the answers at Smithsonian. -via Strange Company
(Image credit: Kate D. Sherwood)
Source: neatorama