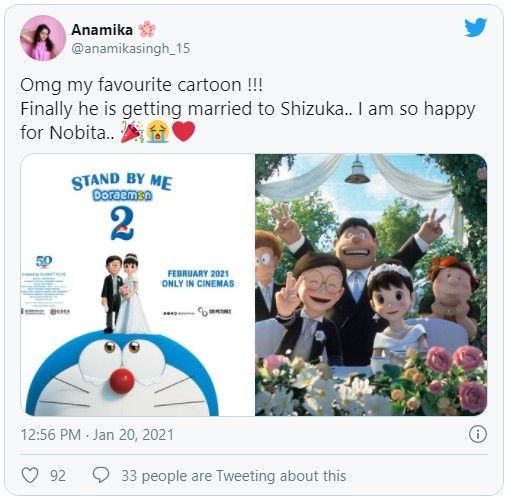 People who have been fans of the Doraemon series for a long time have shed tears when they watched the 2014 film Stand By Me Doraemon, where Doraemon was supposed to leave Nobita (Noby in the English dub) after the robocat was able to correct his future. It seems that the sequel, Stand By Me Doraemon 2, will pick up where the previous film left off, which was on the night before Shizuka's (Sue in the English dub) wedding to Nobita.
While in the manga we do see a glimpse of Nobita from the future wedded to Sizuka, it's not really a cause to celebrate because it's not the Nobita from our timeline.
So it was pretty natural for many to cry tears of joy when CBI Pictures released a poster of its upcoming world premiere of Stand by Me Doraemon 2.
The film was initially released in Japan in November 2020. It's now set to be released across the world by June 2021.
Fans are naturally thrilled.
Now that's a film that I can't wait to watch.
(Image Credit: Anamika/ Twitter)
Source: neatorama