One hundred years ago in 1920, the Bauhaus School was founded in Germany on ideas of functionalism and conciseness, art and craft, and objects and buildings that feature simple geometric shapes. If you have a look around, you'll notice that all of these principles remain relevant in today's world. Design brand NOOM is celebrating the Bauhaus's 100th anniversary with a new series, all named after famous modernist artists and architects and showing off the brand's use of geometry.
The Low Chair Gropius pulls together cylinders and balls with a plush backrest and a round pillow and ottoman. Designer Kateryna Sokolova pulls together a mix of strong lines and fun that will provide a strong sculptural shape in its surroundings.
The Chair Gropius CS1's shape has been pulled together from a group of cylinders, leaving only the seat out. If you enjoy furnishing your space with pieces that pull double-duty, this chair provides a comfortable perch along with the look of an artful object.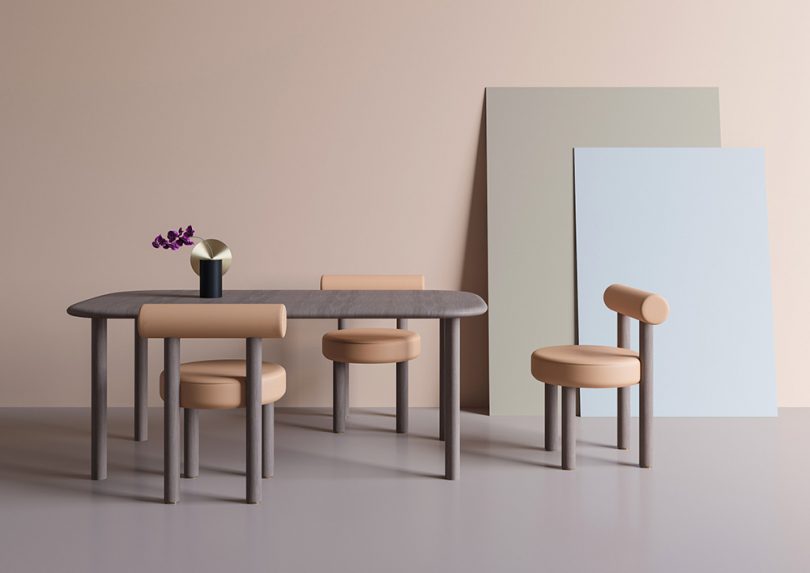 The Low Coffee Brandt Brandt CS1 and the High Coffee Table Brandt CS1 look like fairly standard table shapes and designs, until you look closer and realize that the tabletops are held up by three differently sized legs. Such familiar pieces with a unique asymmetrical element!
The Suprematic Collection of vases and lighting found their inspiration in Suprematism, particularly the work of Kazimir Malevich. The early 20th century movement used clear geometric shapes and fantastic color effects on various metal surfaces through burned metal techniques. The noble metals used in this collection makes every piece is a timeless collectible.

Source: design-milk