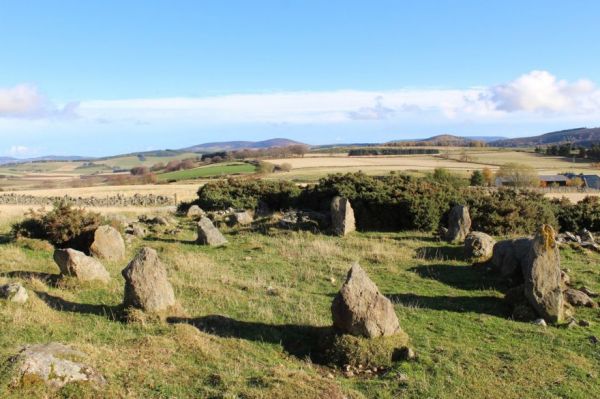 Earlier this month, archaeologists marveled at a newly-discovered ancient stone circle near the village of Alford in Scotland. Well, it was new to archaeologists. Reports were that "local farmers have known about it for generations." One neighbor remembered seeing it in the 1930s. It was apparently a rare find, featuring recumbent stones, estimated to be 3,500 to 4,500 years old. Neil Ackerman of the Aberdeenshire Council archaeological team gave some background on such circles.
The stone circles, Ackerman said, were often built on top of even earlier cairns of rocks and were used at later dates in prehistory for the burial of cremated human remains.

"The monument you see as the finished recumbent stone circle is the last stage, as it were, in a fairly long life of monument use, which is kind of normal for prehistory — people like building stuff on important places," he said.
A couple weeks after the story broke, the news had to be updated.
This ongoing analysis was cut short when a former owner of the farm contacted Mr Welfare to say they had built the stone circle in the mid-1990s.
Oops. -via Strange Company
(Image credit: Neil Ackerman/Aberdeenshire Council Archaeology Service)
Source: neatorama