Some days, you wake up and you just want to obliterate reality. If you can't actually do that, you know, because it's quite a difficult thing to do, you can channel it into a creative endeavor. At least, that's what Austin-based filmmaker Lauren Bruno, who runs Shape Agency, did. 
One morning she awoke, shaved her head, put on some morning tunes to prep for the day, and musician Robot Koch's "Spine (feat. Fassine)" came on. Inspired directly by the music, she decided to make a film that very night, one she says, "Made me feel exactly like the music made me feel. An Obliteration of Reality I called it," Bruno reveals to Creators.
Bruno spoke to some friends, got a crew together—make up artists, dancer, cinematographer, art designer—hired a space, thought up the visuals as the day went on, and shot it that evening. She also had to get props for the visuals, so she hit up Target pondering what off-shelf products she could buy so that, say, the characters bodies looked like larva. Or how the store's discounted items might symbolize a fetus and amniotic fluid. 
The resulting experimental film features women encased in plastic cocoons, struggling to get free, heads imprisoned by cages of thorns, and white goo dripping on them. You could describe it as Saw meets Slither meets Species meets contemporary dance.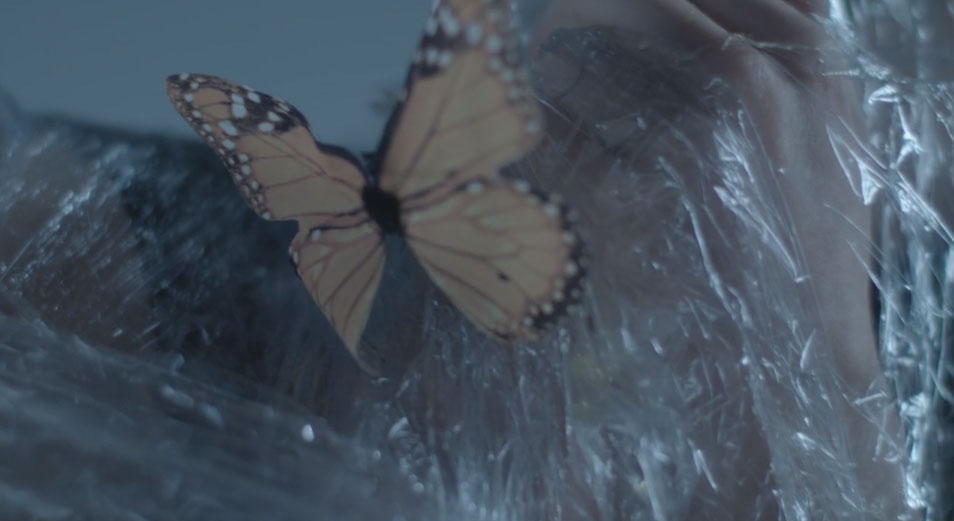 "For me, the song and the melody inspired imagery of a rebirth and of a spiritual acceptance of the stages of life. I expressed this through the life of a butterfly," notes Bruno. "Many cultures associate the butterfly with our souls. The butterfly brings an elevation from the heaviness of tensions of life to one's mind and body. I was looking to create something that free'd our mind from the moments that captivate our darkness."
As for artistic inspirations other than the song, Bruno cites celebrated Belgian choreographer Sidi Larbi Cherkaoui and how he "explores life through dance and the expression of the body" and "the truth of our emotions, and the concepts of our mind [as] mirrors of our own realities." She also cites photographer Nina Hawkins.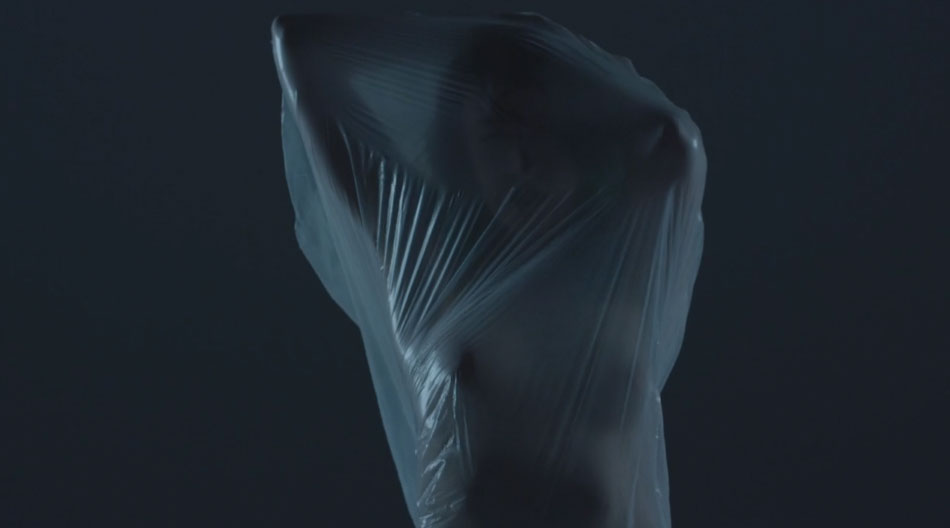 She also enjoys the following quote from David Cronenberg: "For me, the first fact of human existence is the human body. But if you embrace the reality of the human body, you embrace mortality, and that is a very difficult thing for anything to do because the self-conscious mind cannot imagine non-existence. It's impossible to do."
So what do you do after making a short film inspired by a particular artist's song? Well Bruno sent it to Koch and Fassine to get their feedback and blessing.
"When I asked Robert Koch (Robot Koch) where his inspiration came from for the song he said, 'I don't know where it came from. I guess a lot of music doesn't come from a conscious realm, so it's hard to say consciously where it came from, but I wanted it to feel like something alien and very organic with lots of texture.' And Fassine told me 'Quite a brave video, I liked your approach to nature's juxtaposition of ugliness and beauty. You have our blessing to put it online.'"
You can watch the film below.
You can see more of Lauren Bruno's work at her Vimeo page. Find out more about Shape Agency here.
Related
The Everyday Perils of Womanhood Come Alive in a Harrowing Short Film
Single-Shot Drone Short Film Is Black Mirror meets 'Death of a Salesman'
 It's Illegal to Be Perfect in This Perfectly Dystopian Short Film
Source: vice.com