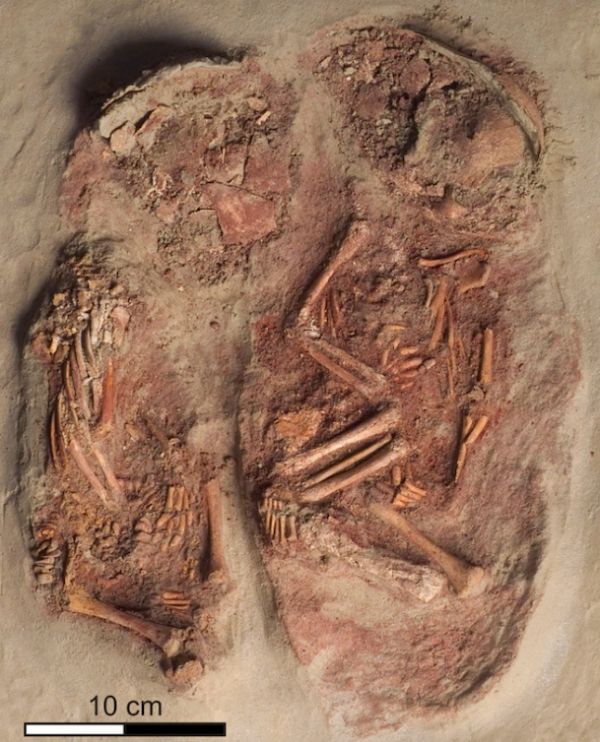 The graves of three infants were unearthed at the Gravettian site of Krems-Wachtberg, Austria, in 2005. Infant burials are a rare find, as their delicate remains tend not to preserve as well as those of adults. New DNA analysis of the 30,000-year-old remains have determined that two are identical twins, making them the oldest known twins on earth (the third infant was their cousin).  
The research team who made the discovery wrote in Nature that the infants were found "embedded in red ochre and they were placed next to each other in flexed positions facing east and with their skulls pointing north." It is believed that the red ochre earth helped to preserve the remains. The Daily Mail reports that "the grave was not backfilled, but instead was covered with a mammoth's shoulder blade that was molded to fit the opening."

Both of them had been buried with grave goods . The youngest had 53 exquisite beads made from Mammoth ivory, placed on his pelvis, that once formed part of a necklace. The older infant was found with shells and a fox's tooth and these were part of some ornament. These grave goods could have been deposited with the dead for use in the afterlife or they were offerings to the gods. The presence of these artifacts may suggest some form of early religion or a belief in the supernatural.
The reference to the "older twin" means that one died at birth, and the other lived a couple of months and then was added to the first twin's grave. Read the research paper at Nature, or the simpler version here. -via Strange Company
(Image credit: Natural History Museum Vienna)
Source: neatorama