Olmec Plaque
akwong
Wed, 12/01/2021 – 15:41
Image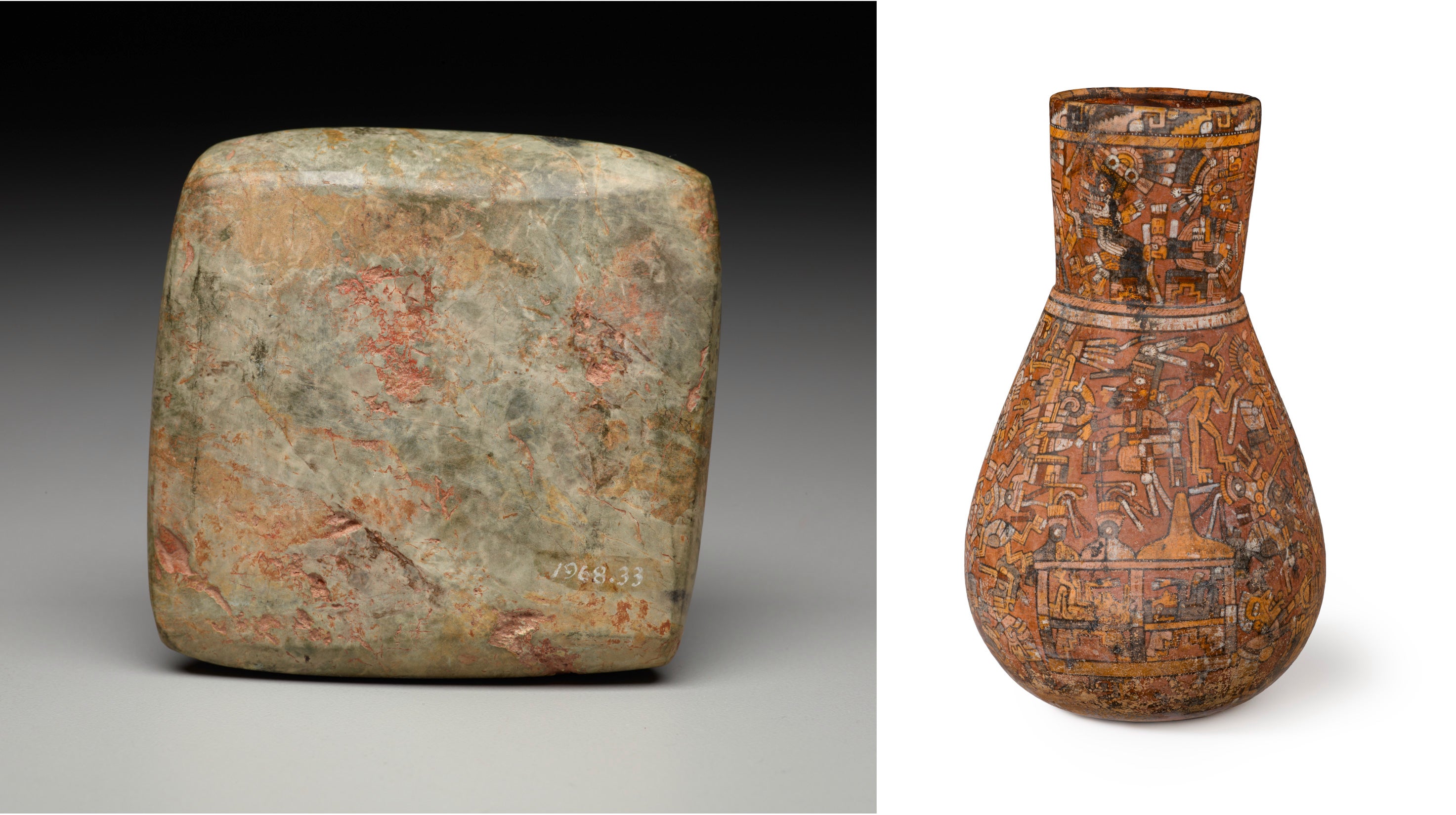 Tombstone
Tablet with Incised Symbols, 900–500 BCE
Mexico, Guerrero
Greenstone
Dallas Museum of Art
EX.8900.11
Vessel with Codex-Style Scene, 1350–1500
Mexico, West Mexico, Nayarit
Slip-painted ceramic
Purchased with funds provided by Camilla Chandler Frost
M.2000.86
Exhibition Drawers
Exhibition Drawer Title
Tablet with Incised Symbols
Exhibition Drawer Body
Etched into this jade tablet is one of the earliest known depictions of the Mesoamerican cosmos. A pyramid-shaped mountain sits atop the open maw of a cave, an entrance to the primordial waters of the underworld. This mountain-cave motif embodies the three levels of the cosmos: the celestial mountaintop where the gods reside, the earth, and the watery underworld. Among the Nahua, this ancient concept is analogous to the altepetl (water-mountain), a symbol of both a land and its people. A maize plant directly above the mountain-cave represents the axis mundi, with four kernels marking the corners of the cosmos.
Exhibition Drawer Open
On
Exhibition Drawer Title
Vessel with Codex-Style Scene
Exhibition Drawer Body
This vessel reproduces—in both form and design—the fundamental concepts of Mesoamerican land and lineage: a mountain atop a cave, through which flow the primordial waters of creation. Painted with remarkable artistry, this vase depicts a supernatural scene that envelopes its entire surface, including the base. The complex scene relates a story of creation, principally the birth of a yellow-haired culture hero and his subsequent ensoulment in a baptismal water rite. The narrative begins with two creator deities who converse in a stylized mountain within a personified cave. The fanged maw of the cave curls to open on the base of the vessel.
Exhibition Drawer Open
On
Source: lacma.org