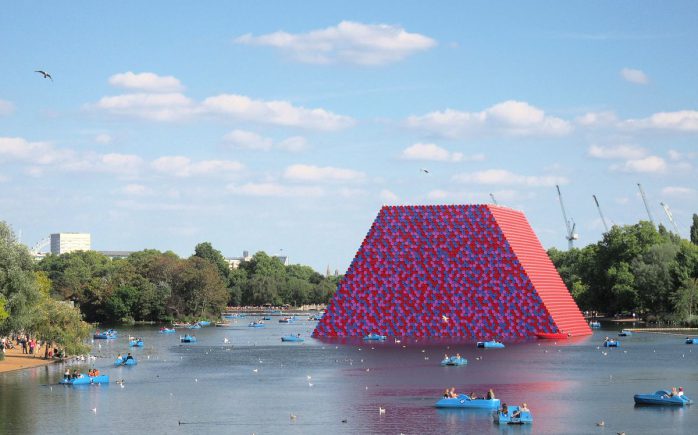 More stories below from this week (click on bolded words for more information):
The best public art of 2018 – Christo and Jeanne-Claude's The Mastaba (seen above).
Here are 32 inspiring museum exhibitions to see across the US over the holidays.
Here are 11 remarkable, witty, and utterly unique holiday gifts you can buy from museum shops across the US.
Hoarding and spending at Art Basel Miami Beach.
5 Art Basel-featured women artists you need to collect in 2019.
The 2018 auction market—price is right for pale males.
David Hockney's double portrait of a legendary Met curator and his partner could fetch almost $40 million.
Judge orders collectors Harry and Linda Macklowe to sell their $700 million art trove and split the proceeds.
How Barbara and Aaron Levine Became two of America's most committed collectors of conceptual art.
Why you can't always buy a work of art just because you have the cash.
US anti-money-laundering bill could reappear early next year.

5 essential

tips

for collecting street art.

World Trade Center Performing Arts Center

receives

$89 million grant.

Anonymous donor gives Virginia Museum of Fine Arts an Asher Durand painting worth $40 million.
Tasmanian museum expands with £230 million luxury hotel that includes a Marina Abramović-designed spa.
PODCAST: We look back at ten significant gifts and purchases that entered public collections in 2018.
PODCAST: Should looted colonial art be returned?
PODCAST: Art and power with New Museum director Lisa

Phillips.

Hammer Museum in Los Angeles appoints new board members.
As art institutions explore new frontiers in South L.A., communities brace for change.
First woman director appointed to US national gallery of art.
Released from jail, artist Tania Bruguera vows to stay in Cuba to continue her fight against new censorship law.
Tracey Emin to bring emotional major new show to the White Cube in early 2019.

Inside the

effort

to write women into art history.

Women in the arts—Lisa Panting and Malin Ståhl are pushing to make the most of it.
Artist Betty Tompkins explains why the vile words used to describe women are worth painting.
New York Gallery, Yours Mine & Ours to close, leaving Lower East Side with one more void.
Joy Labinjo's show at Tiwani Contemporary draws on the intimate atmosphere of rediscovered photographs.
Victor Vasarely retrospective at Städel Museum, Frankfurt, sheds new light on the op artist's styles.
Is China censoring art about biotechnology? Last-minute cuts at the Guangzhou Triennial suggest it is.
Olafur Eliasson's 'Ice Watch' confronts Londoners with the realities of climate change.
What goes on in the darkness at Sweden's northernmost biennial.
Inside the "Phallus Palace," Charles Leslie's trove of queer art.
Jerry Saltz put Michelangelo's David in an NYC Subway—here's what happened.
Cubism shattered convention to alter the course of art history.

How artists can master dealing with

rejection

.

What it takes to live as an artist in New York.
How Stanley Whitney became an icon of contemporary abstraction in his seventies.
Revealed online for the first time is a photograph showing Van Gogh painting slashed in 1978.
Cataloguing Egon Schiele using an online database is a digital work in progress.
Nendo turns MC Escher's optical illusions into reality in immersive exhibition.
An exhibition at Standard (Oslo) explores cartooning and its historical appropriation in the name of pop art.
The way we talk about art shouldn't be impossible to understand.
Strolling through Ilse D'Hollander's becalmed landscapes.
How one artist's running routine helps her think more creatively.

A simple

guide

to working with models for artists.
Source: arrestedmotion