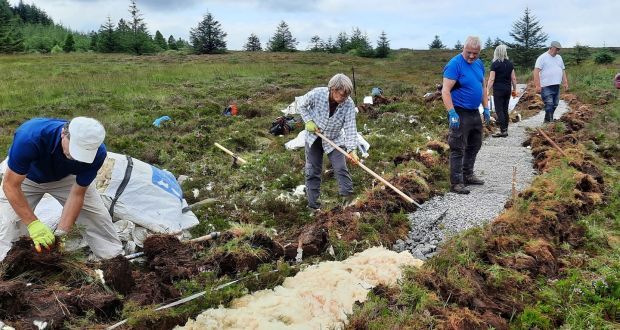 Does it sound like a suspiciously too Irish thing to do? The technique was actually pioneered by the ancient Romans. Trails paved with layers of wool erode slower than other materials and are more environmentally friendly than synthetics. The Irish Times talked to Bryan Fennell, a recreation official in northern (lower-case n) Ireland:
The process involves a layer of fleeces being placed under four layers of stone.
"Over the last few years, walking has exploded as a sport in Ireland," explained Mr Fennell. He said some walkers instinctively avoid muddy areas and spread out over blanket bog, not realising the damage they do as a result.
"What we want to do is create defined tracks," he added. […]
"The beauty of this technique is that you can shear sheep on the side of a hill and put the fleece directly into the track because the wool needs no treatment."
-via Marilyn Terrell | Photo: Bryan Fennell
Source: neatorama