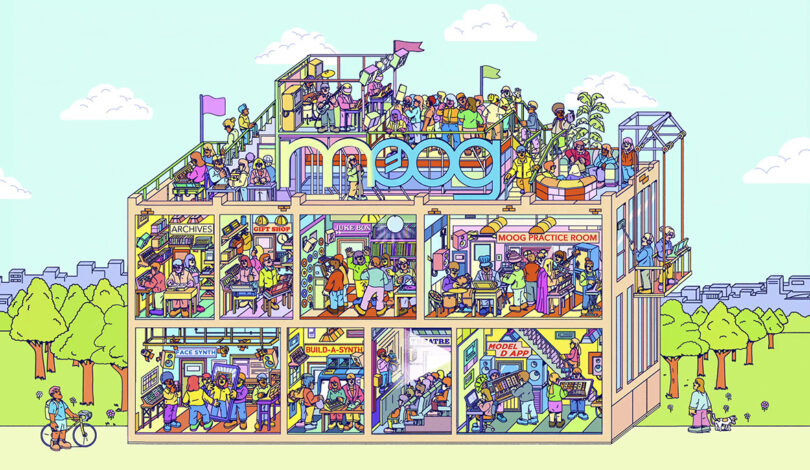 "Colorful" is an accurate word when discussing the cast of characters associated with the rich history of synth maker Moog Music over its span of seven decades. Parliament Funkadelic's futuristic P-funk party? Check. Gary Numan's dystopian synth pop melodies? Definitely. Dr. Dre's laid back G-funk West Coast vibes? Most definitely. So it seems rather apropos Moog celebrates the brand's founder Bob Moog's birthday and their Model D synth in similar colorful fashion with the launch of a virtual online Minimoog Model D synth site.
How many times have you heard "the 90's are back"? Plenty, we're sure. That said, the interactive site celebrating Moog's 70th year designed by pre-eminent design firm Pentagram takes on numerous of the flat and simple graphic attributes associated with the decade's video games and websites with a delightfully non-ironic pleasure worth celebrating – a resplendent ode to the limitations of baud-measured bandwidth and an affinity for Flash shaped animations, when many of the era's most innovative websites were motived to make more with less.
The 90's also offered a brief moment in web history when the experiential rather than purely monetized experience defined online browsing. The site takes delight in (re)capturing the simple joys of satiating, "what's behind this door/link?" browsing curiosity.
The site is divided into "rooms" where visitors are invited to investigate the history, songs, music, and distinct sounds of numerous musical icons associated with the Moog sound:
Jukebox: A playlist of 45 of the most influential songs featuring the Minimoog Model D!
Practice Room: An interactive synthesizer allowing guests to create, share, and save original recordings with simulated lead, bass, and percussion sounds inspired by the Minimoog Model D.
Archives: Explore the rich history of the Minimoog Model D synthesizer, including the people who designed it, and the impact it has had upon the world.
Theatre: An archive of musical performances and other videos capturing more than 50 years of Minimoog Model D on stage, in studios, and across various records.
Build-a-Synth: Print and "build" your own mini Minimoog – the perfect studio decoration or desktop companion!
Face Synth: An Instagram filter integrates with your mobile device to use your facial expressions and body's movement to trigger the Minimoog's controls.
Model D App: "Discover the sound and workflow of the classic Model D from your iOS or macOS device with the official Minimoog Model D app. Optimized for both iOS and macOS, anyone with an Apple device can jump in and play with over 160 included presets or begin exploring electronic sound design to craft their own unique style."
Gift Shop: Like any IRL exhibit, a gift shop is included to conclude your visit. The online merch shop peddles the brand's accessories, clothing, and collectibles including t-shirts, coffee mugs, bumper stickers, and other Moog-related gear.
In collaboration with developer team Counterpoint, Pentagram worked for over two years to bring the sound, mood, and history of the Minimoog Model D to life as an online destination for visitors to immerse themselves into. Yuri Suzuki, Pentagram's sound and experiential designer was tasked to "craft a tightly interactive and fun experience that would capture the essence of Dr. Bob Moog and his team's groundbreaking innovation."
Check out the new Model D website and see (and hear) for yourself whether Pentagram has done Bob Moog's legacy justice.
Source: design-milk