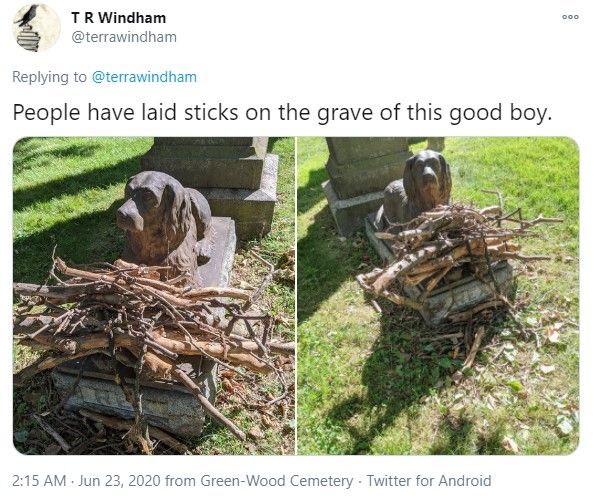 The Green-Wood Cemetery is a cemetery located in Brooklyn, New York City. It is the resting place of many famous artists and musicians like Leonard Bernstein and Jean-Michel Basquiat. But of all the many famous figures buried in this 478-acre cemetery, they are not who get the most visits. Rather, many people visit this place not to pay tribute to men, but to a humble dog named Rex.
Rex was the faithful companion of John E. Stow, one of NYC's leading fruit merchants who died in 1884. Green-Wood's files from the 19th century include a note that refers to the placement of a "bronze likeness of a dog," next to Stow's grave. However, it's unclear if Rex is actually buried there. "I think people like to believe that there is a dog interred there and there very well might be," Stacy Locke, Communications Manager at Green-Wood Cemetery says. "But it's hard to say."
But it seems that it doesn't matter whether Rex is buried there or not. It doesn't change the fact that he was, is, and always will be a good boy.
Over the past months, people have gone by the cemetery just to leave sticks on Rex's gravestone.
If you're in NYC, you can find Rex's memorial at Green-Wood Cemetery, Lot 2925, Section 81.
Wholesome.
(Image Credit: terrawindham/ Twitter)
Source: neatorama