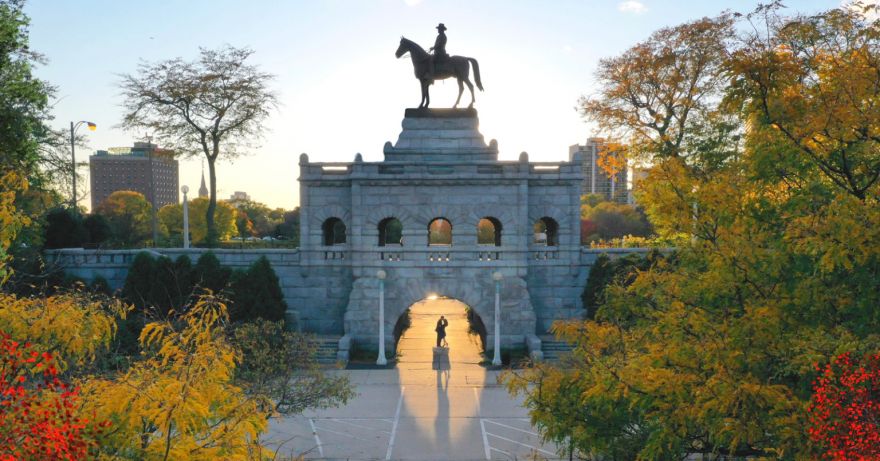 This photograph of a lovely couple by Antonie Tissier was not planned. Tissier happened to shoot the couple while shooting in Chicago with his drone. He was just flying his drone to get photographs of the sunset when he captured the image of the couple standing under the Ulysses S. Grant monument. By the time he tried to catch up with them, they were already gone, as Petapixel details:
Since he could not find them to share the image he took, Tissier intended to delete the photo when he arrived home, but his friends insisted he share the photo online and try to find the couple.
The image was shared to Tissier's Instagram, a few Chicago Facebook groups, and the story aired on WGN 9 News Chicago. Just three days later, the couple was located.
"To be honest I never believed we could find them," Tissier said. "They could even be tourists from anywhere else in the US or the world, and maybe they were already back into their plane the next day when I posted it online."
Lucky for the couple, Emily and Omar, they were local. The on-the-ground photographer, Crane's Photography, has shared his perspective of that same moment on his Instagram:
"It was so gorgeous and we couldn't believe our luck that someone else with a drone happened to be in the same spot as us to capture that photo," Emily said. "It's super cool that we were able to get in contact with the photographer though, now we'll have two awesome photos from that day from two completely different perspectives!"
Image via PetaPixel
Source: neatorama