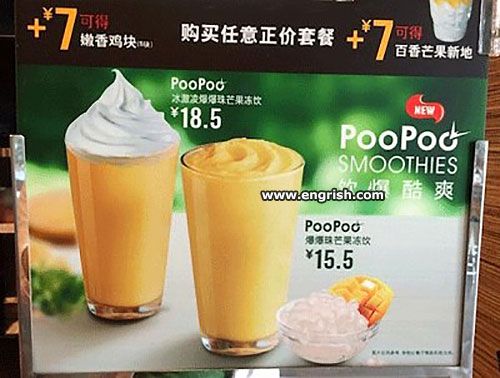 If you ever go to China, consider looking for this certain store that serves yellowish brown smoothies, which are, for some reason, called PooPoo Smoothies. The said smoothies can come with a white swirl on top, which is more expensive, or the one without the swirl, which comes with diced mangoes.
Engrish user The_YongGrand says that the "Poo" in the "PooPoo" could mean "burst", "pop", or "explode."
It sound[s] like "Pow-Pow" in Cantonese. Or if they are creative with it, they could use "Pop-pop" or "Boom-Boom". "Pop-pop" sounds much more relevant to the drink since it's all about bursting the little pearls when you are drinking it.
Would you drink one?
Image via Engrish.com
Source: neatorama