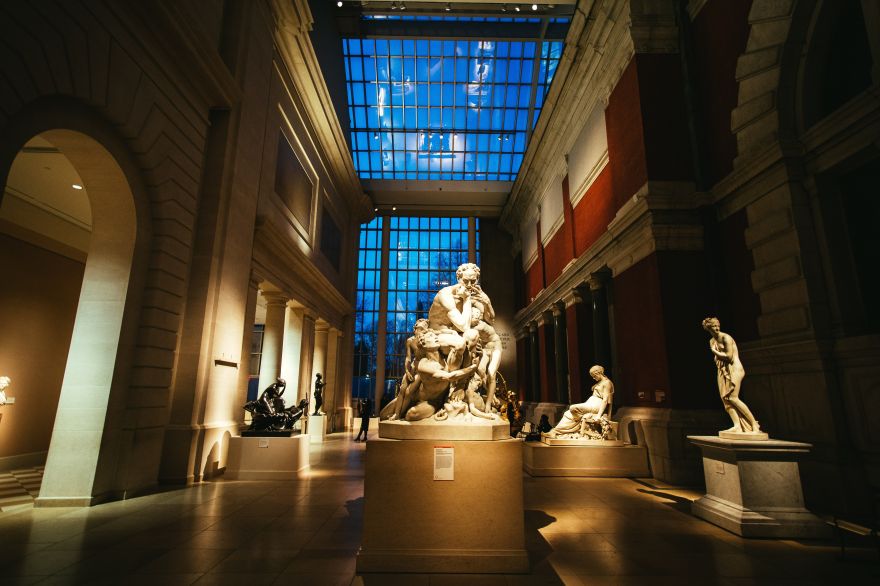 In a surprising turn of events, Pornhub announced "Classic Nudes," a series of interactive guides to different …steamy artworks housed at different museums around the globe. From the Met, Paris' Louvre, Madrid's Prado Museum, and London's National Gallery, Pornhub has got it covered! But just how good are the guides anyway? Input's Matt Wille reviews the Met's Classic Nudes tour:
This unintentional meandering did have one fortunate side effect. With nudes at the forefront of my mind, I ended up finding a bunch of scantily clad subjects that had been left out of the tour. French painterPaul Gauguin's Tahitian Women Bathing (1892) ended up being right where I thought the Corot painting would be, for example. Finding these other gems got me thinking about how exactly Pornhub curated its tour. Why, for instance, had Gauguin's nude been excluded?
Officer & Gentlemen, the design firm Pornhub worked with on this tour, had the answer: Gauguin is canceled. "The original long list of paintings was put together by ourselves and vetted by a team of art historians here in Spain, who gave us insight into each piece and helped us remove those with questionable backgrounds or subject matters," Officer & Gentlemen co-founder Alex Katz tells Input via email. And when I took a few minutes to Google Gauguin on the subway home, I found out abouthis very problematic history with portrayals of Polynesian people.
Despite Pornhub's insistence that it worked to feature "as many works by women and BIPOC artists as possible" and its inclusion of a section on the Classic Nudes site meant to highlight diversity in the world of naked art, every work but two on my tour were created by white men. It's no wonder, then, that the vast majority of the stops on the tour are of nude women.
Image credit: Matthieu Joannon (Unsplash)
Source: neatorama