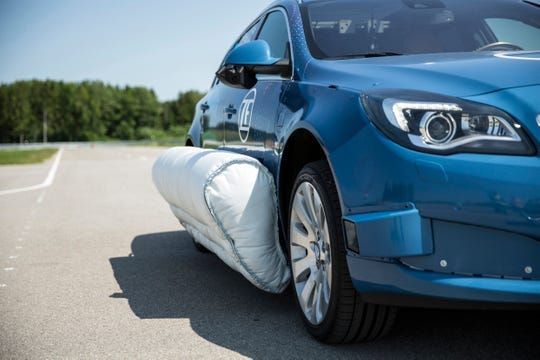 According to the statistics gathered by the World Health Organization, around 1.35 million people die each year because of road traffic crashes, while 20-50 million more people suffer from non-fatal injuries, which often result in disabilities. Traffic crashes are also the leading cause of death of people aged 5-29 years old.
The usual causes of car crashes are speeding, driving under alcohol influence, non-use of seatbelts, distracted driving (such as texting while driving), and unsafe road infrastructure.
Of course, avoiding alcohol and distractions and using seatbelts can reduce your risk of going to the afterlife well before your time, but we know better. We want to drive safer than safe, and ZF, a German supplier, can help us with that.
We already know that airbags inside the car can be an equipment crucial for our survival once accidents happen, but ZF offers us something better — airbags on the outside of the car:
A new airbag that deploys from the side of a vehicle before a collision can reduce the severity of occupant injuries 40%, according to ZF, which is bidding to become a major force in safety engineering in addition to its longstanding expertise in steering and transmissions.
The system uses cameras, radar and lidar to determine when a collision is unavoidable, igniting the air bag milliseconds before the oncoming vehicle strikes. The sensors will also communicate with safety systems inside the vehicle, for instance adjusting the seat belts for side impact.
What are your thoughts?
(Image Credit: ZF)
Source: neatorama