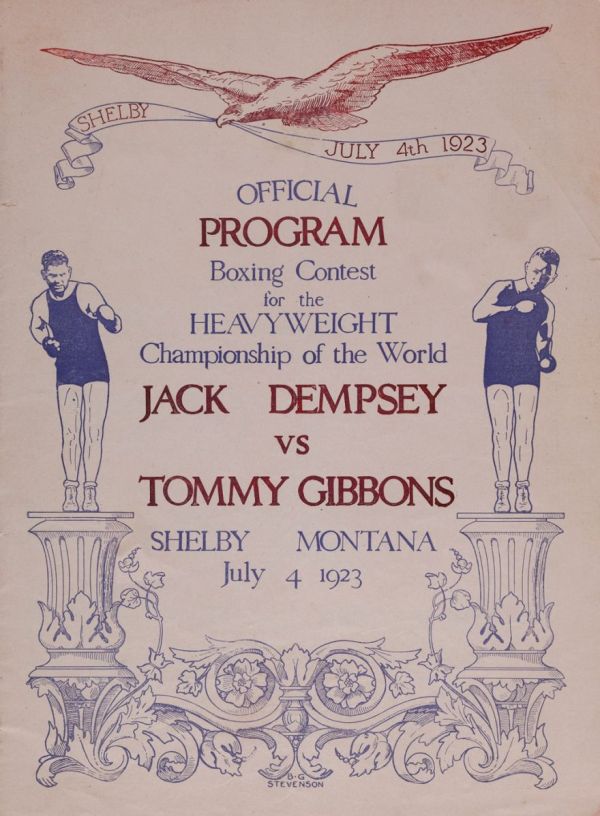 In the Roaring Twenties, boxing was huge. There were reputations and money to be made, and people came out of the woodwork to watch their favorites go at each other. In Shelby, Montana, real estate developer (and the mayor's son) James "Body" Johnson Jr. was looking for a way to invigorate his town after an oil boom had crested, and was taken with the idea of staging a fight with world champion Jack Dempsey. Johnson and his associates arranged a fight between Dempsey and an upcoming boxer named Tommy Gibbons, although it would cost the town several hundred thousand dollars it didn't have. Up front.
Rather than despair, Johnson's gang decided to bluff their way through, arranging lines of credit through the town's three banks: the First State Bank of Shelby; the Stanton Trust & Savings Bank; and the First State Bank of Joplin. Lumber was bought with promissory notes to the tune of $82,000, agents launched a haphazard promotional campaign on the East and West coasts, and hundreds of locals began to swirl around the town in the excitement of the run-up. To accommodate the expected 40,000 attendees, makeshift hotels were hastily thrown up by enterprising locals sure of a healthy profit. The match was scheduled for 4 July 1923, in the hopes of capitalizing on patriotic fervor and the promise of a fight to remember. This was to be a boxing match for the ages.
Well, it was, in the respect that it became a huge story for the town of Shelby, but it didn't turn out the way Johnson hoped it would. Read about the championship fight between Jack Dempsey and Tommy Gibbons and what it did to Shelby, Montana, at Damn Interesting.
Source: neatorama