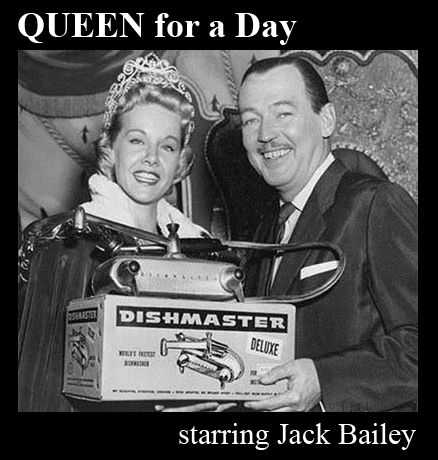 The 1950's was the Decade of Television. After WWII, happy days were here again and practically every family could afford a TV set, albeit small and B&W. And with the television sets came programming calculated to satisfy the desires of the newly-affluent consumers – westerns, soap operas, cop shows, comedies, variety shows, dramas, kids' shows, and something never seen before – game shows.
Game shows then were not at all like those of today, and those who have only seen programs such as Family Feud may well be in for a jolt when viewing some of these game shows from TV's Jurassic Age. From the IMDb:
The world of the TV Game Show was going full blast in TV's earliest days. We had the the Networks teaming with the likes of titles such as: "BREAK THE BANK", "STRIKE IT RICH", "STOP THE MUSIC", and "THE BIG PAYOFF". There was plenty of music, flashing lights and tons of prizes as well as ca$h! A good time was had by all!
Then we had "QUEEN FOR A DAY". This show stands out from all others. It has been written up in sociological studies and psychological journals alike. It was highly unique in format and rules of engagement between competing contestants. In our proverbial nutshell, the show MC, strong lunged Jack Bailey, would introduce each of 3 or 4 contestants, one at a time. All the Lady contestants had so long a time to tell the Host, the Studio Audience and the Whole Televiewing world at large, just why she should be chosen "Queen for a Day!"
The sadder the sob story, the more tears and hankies used, the better as it was sad stories and those women caught up in them the show wanted. Prizes included furniture, household appliances and even cold ca$h.
As each contestant was brought out on stage, Host Mr. Bailey would conduct a sort of interview, just to make sure that all the proper, relevant, squalid details weren't overlooked, omitted or otherwise forgotten. Jack also had a habit of attempting to put the ladies at ease with a little good-natured joshing. That was really a sight to behold! On the one hand we had the little, teary-eyed sobstress; in contrast big, bellow-voiced Mr. Bailey, "gently" kidding the wretched, little teary eyed dear.
I'm ashamed to say that I am old enough to have watched this program and even at that tender age it made me squirm. Women loved the show, though, probably for the same reasons that men didn't.
Surprisingly, as long-lived and as popular as the program was, only about a dozen or so episodes are known to exist today. I've embedded one from YouTube for your viewing – or squirming – pleasure. See how it compares to your favorite game show. Jeopardy it ain't.
Source: neatorama