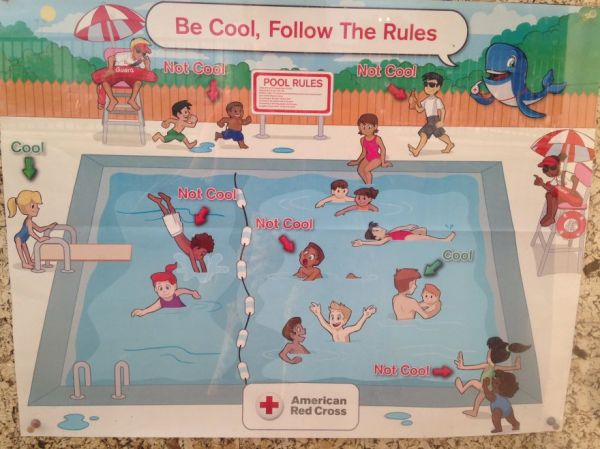 I know you've been waiting with baited breath for another political correctness scandal to appear, so here it is- that Red Cross swimming safety poster at the top of the post is seen as racist, can you guess why?
It's not because of the lack of diversity in the pool but rather because all of the good kids being "cool" are white and all the bad kids doing "not cool" stuff are not white.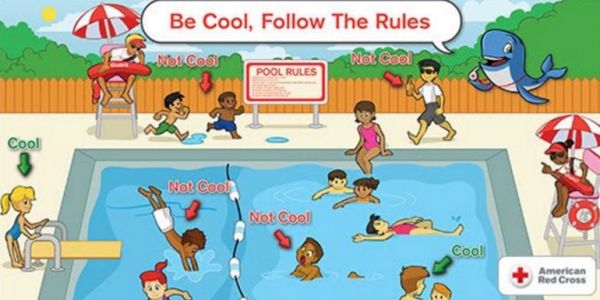 Concerned parents took to social media to call out the American Red Cross over this accidental act of overt racism, and the Red Cross immediately issued an apology and discontinued the poster.
The poster's message was seen as doubly harmful for African Americans and Latinos, who still have a shaky relationship with swimming pools:
The African-American community has had a tense history when it comes to public pools, as they were segregated in the past, and even when they weren't, white residents would pressure black residents into avoiding pools and beaches.

"When I saw the poster, I just, was just very saddened that the Red Cross had chosen to put out an image that might discourage African-Americans from trying swimming if they were new to it, and also something that would extend a negative stereotype," Ebony Rosemond, who runs an advocacy group called Black Kids Swim, told KUSA.

"This educational series reflects a serious lapse of judgment that we believe is harmful for young people. 70% of African Americans and 60% of Latino Americans cannot swim," a Change.org petition calling on the Red Cross to review its policies reads. "Your poster extends existing negative stereotypes and further discourages people of color from participating in swim activities."
-Via Good Housekeeping
Source: neatorama