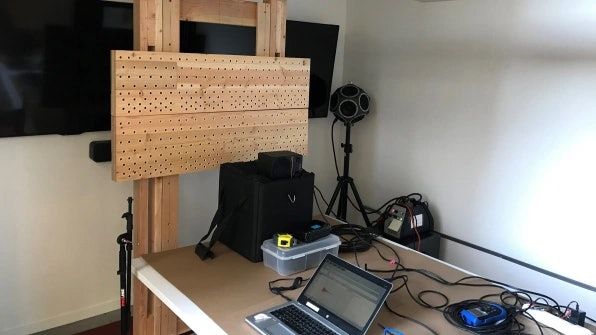 Here's another way to recycle your empty plastic bottles! Well, it also requires extra effort, but hey, it's an alternative material for reducing noise. Researchers from the University of Washington, along with architecture firm NBBJ teamed up to create a new sound absorption technique that uses empty bottles embedded inside walls. Their prototype provided a 60 percent reduction, as Input magazine details:
The basic idea is that empty bottles neutralize noise by capturing some of the sound energy that passes by; once inside, the waves bounce around the cavity and clash with the narrow shape of the bottle's neck, causing the energy to dissipate. So the group decided to see what would happen if a wall was made with bottles embedded inside, with the necks facing outwards and the cavities hidden inside.
According to the group, prototype slabs of the wall were introduced to NBBJ's office and they measured noise reductions of around 13 decibels… or the equivalent of wearing noise-canceling headphones. That's pretty incredible and could go a long way towards helping workers who are sensitive to noise being made by people around them (read: me).
"We can't ignore the human voice. It ties back to a survival mechanism," says Ryan Mullenix, a partner at NBBJ, in an interview with Fast Company. "That has a big impact on our executive function, our cognitive control, our emotional self-regulation. In the basic sense, it just stresses us out."
Image via Input Magazine
Source: neatorama