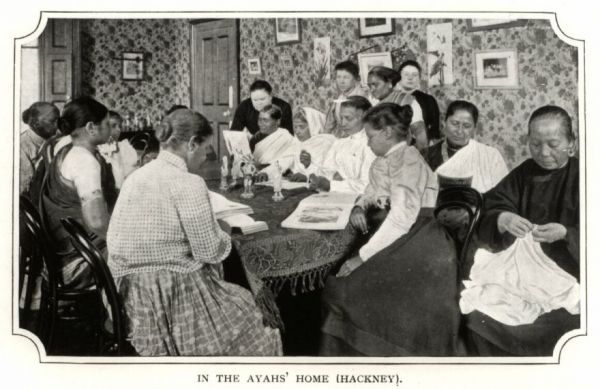 At its height, the British Empire offered many foreign places for an English family to live, temporarily or permanently. Employees of the British government or the many companies that did business overseas were stationed in faraway places and raised families there. Labor was cheap in Asia, especially female labor, and these families procured ayahs, or nannies, for their children. These ayahs were expected to be completely devoted to the children they were hired to raise, even while the family traveled, often leaving their own children to do so.
Between the late 1700s and mid-1900s, countless ayahs traveled under the employment of British families. Maritime voyages were long and arduous, marked by bouts of seasickness and dangerous storms. The ayahs relieved memsahibs of their childcare duties by tending to their young and often anxious charges, and keeping them entertained for hours, day after day. Upon disembarking in London or other port cities, however, their services no longer required, a number of the ayahs were unceremoniously discharged. There are no records documenting how many ayahs found themselves in this position, or how most of them fared.
Many of these stranded ayahs, from India, Hong Kong, Burma, Malaysia, and other countrie, found their way to the Ayah's Home in London, run by the London City Mission. Established in 1825, the Ayah's home took in woman of many different backgrounds and religions whose stories are lost to time. Read about the Ayah's Home, and what little we know about the women who lived there, at Atlas Obscura.
Source: neatorama