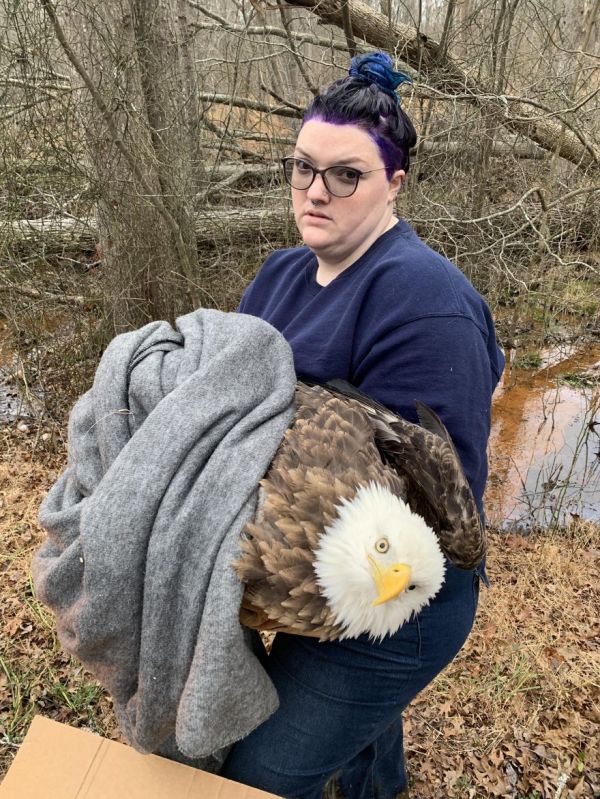 This odd picture has a wonderful story behind it.
A redditor who goes by Wildlife-outside works at a nature center that has hawks and owls and she got used to handling what we would consider dangerous birds. She also became a volunteer bird rescuer, and now get calls when a situation arises. One day, a bald eagle collided with a bucket truck and was injured. Authorities called her for help while she was in the middle of dying her hair! Wildlife-outside responded and chased the injured eagle through a swamp before wrapping him up in a blanket. Yes, he's a wrapped raptor. He had already tried to bite her in the face, which would have made a very different picture. She put the eagle in a box and drove it to a wildlife rehabilitation center, but not before her husband took a one-of-a-kind snapshot. The eagle doesn't look happy at all, and she has a thousand-yard stare that says, "You have to take a picture NOW?"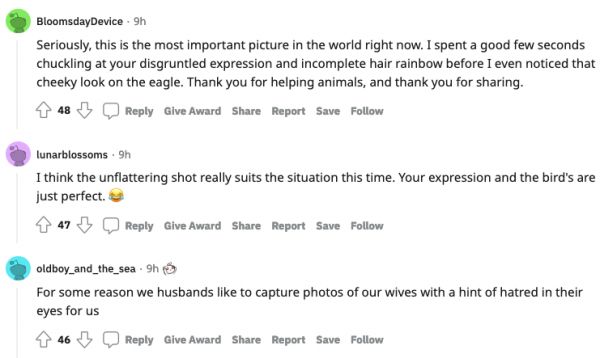 The fallout: In case you're wondering, the dye job came out just fine. This type of color doesn't contain any bleach, but you still want to wait until it's finished to show it off. Wildlife-outside doesn't know what happened to the eagle, but is certain that the rehab center took good care of it. While it took her months to get up the nerve to share the picture, the post at reddit got 85K upvotes and 24K comments in only eight hours. I would love to say that a good time was had by all, but neither she nor the eagle had fun saving the bird's life. We are just glad she did.
(Image credit: Wildlife-outside)
Source: neatorama