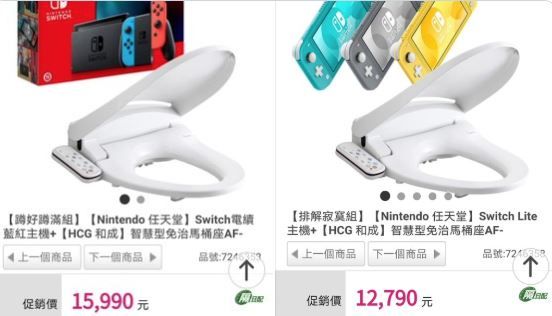 What is unclear is whether the Taiwanese online retailer is hoping to convince toilet seat customers to buy a Switch or Switch customers to buy a toilet seat. Nintendo Life reports:
A Taiwanese retailer has decided that the best way to flog Nintendo Switch systems is to chuck in a smart toilet seat – you know, for those lengthy play sessions. According to Chinese Nintendo, the bundles' names translate to "Sit well full-length" for the original Switch model, and "Loneliness Eliminator" for the Switch Lite. Truly inspiring.
With the pace of gaming technology, this won't even be an issue within a year or two, as most toilet seats will be gaming consoles anyway.
-via Dave Barry | Image: Chinese Nintendo
Source: neatorama