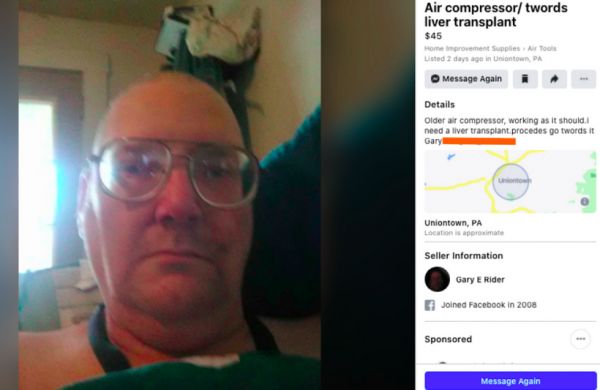 A private Facebook group called "a car club where everyone acts like boomers" is a humor forum where members post as if they were the Booomer gearheads they make fun of. There's a lot of upper case text and grousing about computerized vehicles -you get the idea. Then someone shared a Facebook marketplace post in which Gary Rider is selling his air compressor to raise funds for a liver transplant. Yeah, there are things to make fun of here, like the spelling of "toward," but the group saw more.    
A group member named Patrick Thompson, a voice actor and podcast host who was one of the folks who helped spread word of Rider's struggles, chatted with me over Facebook Messenger video, and described the group as a "crap-posting car group" and "boredom killer."

By now you should understand that "a car club where everyone acts like boomers" is far from an official, well-organized operation. It's a bunch of people poking fun at old folks. But that's what makes what happened after Alexander Keeling and others first posted Rider's compressor listing (see post above) so amazing. The entire community of people who normally just joke about boomers actually banded together to help one out. And in a big way.
A big way is right. The group members pumped up Rider's fundraising efforts to $52,000! Jalopnik spoke to Rider, who said he's "sold" the air compressor hundreds of times, but each time the buyer tells him to keep it. Read the story of the disabled welder and the group that came to his aid at Jalopnik.
(Image credit: Gary Rider)
Source: neatorama