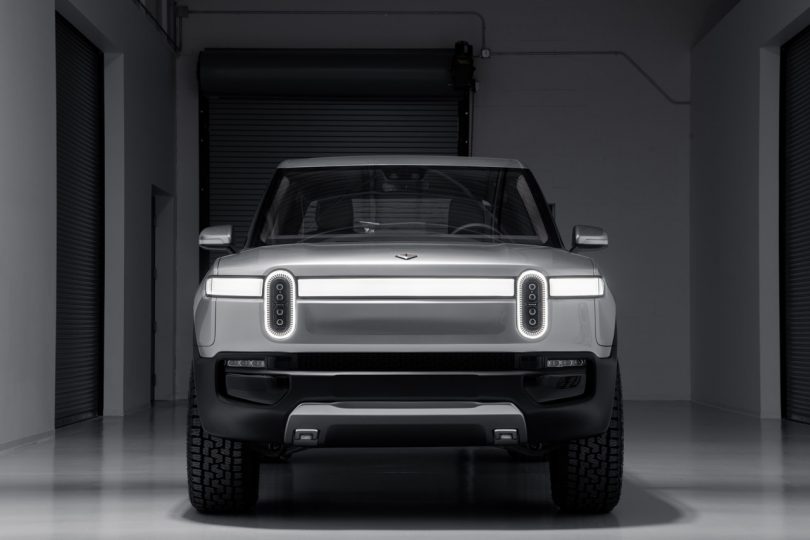 With trucks and SUVs now accounting for 67% of domestic auto sales in the United States, it's an understatement to say Americans love their larger vehicles. But while the SUV and crossover segment is already transitioning toward an EV future, especially in the luxury category, the pickup truck market tends to be averse to any major change. The average truck buyer values durability, towing capacity, and a subjective element of badassery associated with truck ownership; traditionally, off the line speed and fuel efficiency are distant concerns, modern design even less valued. That might soon change if the Rivian R1T concept is any indicator where the future of pickup trucks might be heading.
Unveiled at the Los Angeles Auto Show this past Monday night accompanied with a spark of celebrity fanfare, Rivian's R1T electric pickup truck is following the disruptive footsteps of Tesla with promises of delivering insane  – or ludicrous, if you please – performance (0-60 in 3 seconds) corresponding with an equally impressive 400 mile range and the quiet efficiency of an electric vehicle. For comparison's sake, the ferocious and beefier Ford F-150 Raptor does 0-60 in 5.3 seconds.
The R1T's sleek body sits atop of a skateboard platform housing the truck's battery pack, drive units, suspension, braking and thermal system, with a low center of gravity stature that should provide a more stable, car-like ride for daily duties, but with enough clearance for off-road adventuring (doubtful truck traditionalists should note the bottom is clad protected). That said, the R1T was engineered with its truck spirit intact, capable of producing 3,500 Nm of grounded torque per wheel, with a total tow rating of 11,000 pounds, ready to pull a modern travel trailer for some serious glamping adventures.
Beyond technologies the R1T's skateboard platform architecture permits all sorts of unique features not found in any other truck. A Gear Tunnel offers a passage below the and through cab, offering storage for longer items like snowboards, camping gear, or sports equipment.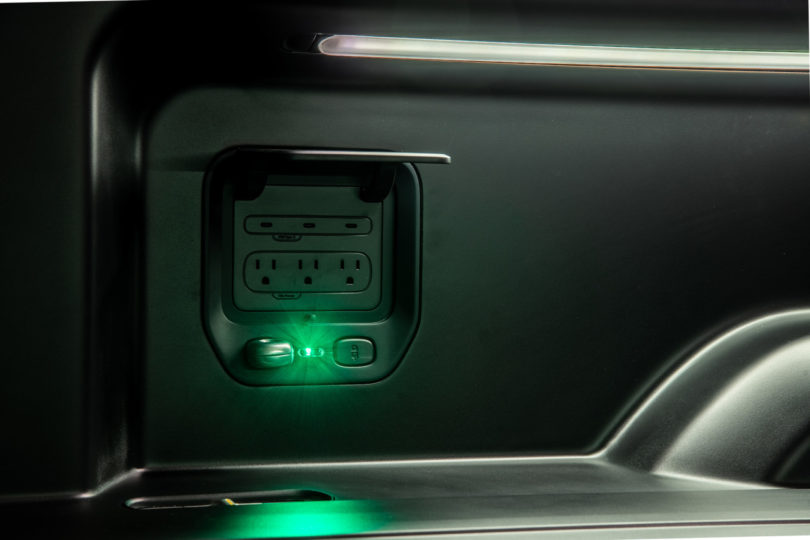 Although the exterior of the vehicle is what first attracts you, the interior is where you spend the most of your time, so we really focused on creating a transformational space…we looked outside the automotive industry and took inspiration from contemporary furniture, as well as hiking and outdoor gear, to drive the design.
– Jeff Hammoud, VP of Vehicle Design
As a midsize truck owner who loves the utility and spirit of their traditional gas powered 4×4 vehicle, we're still pleased to see a startup like Rivian shake up the segment with numerous features and technologies accelerating toward the future, rather than holding onto the past. Only time will tell whether Rivian will meet its goal of selling R1Ts in the tens of thousands annually, beginning in late 2020 with a starting price of $61,500 after Federal Tax credit.
If the Tesla comparisons weren't evident already, Rivian is now accepting preorders for the R1T for a refundable deposit of $1,000 just like the Model 3.

Source: design-milk