Los Angeles' prestigious Bel Air neighborhood has always been synonymous with luxury and opulence. Among the sprawling mansions, there's one architectural gem that stands out, not just for its striking design but also for its commitment to sustainability. RO54, by Arshia Architects, is a dynamic building perched on a hilltop, offering breathtaking views of the Pacific Ocean and the Los Angeles basin.
RO54 isn't just another large house dominating the landscape, it is an architectural, futuristic marvel that pays homage to the natural topography that once defined this area before new development took over. Arshia Architects set out to craft a design that fits harmoniously within the neighborhood's confines while adhering to strict regulations.
At the core of RO54's design is a clever exercise in spatial relationships. The split-level design gracefully follows the contours of the hill, effectively connecting the floor half-story plates. This design choice not only enhances visual appeal but also allows for a functional organization that maximizes utility. The result is a home that seamlessly integrates various spaces, encouraging a sense of openness and fluidity.
Taking inspiration from streamlined automotive design, RO54 embraces concealed technology throughout the house. The aesthetic is sleek, sophisticated, and uncluttered, allowing the beauty of the space to take center stage.
The interior palette revolves around a monochromatic color palette and limited variety of materials, such as wood, stone, and glass.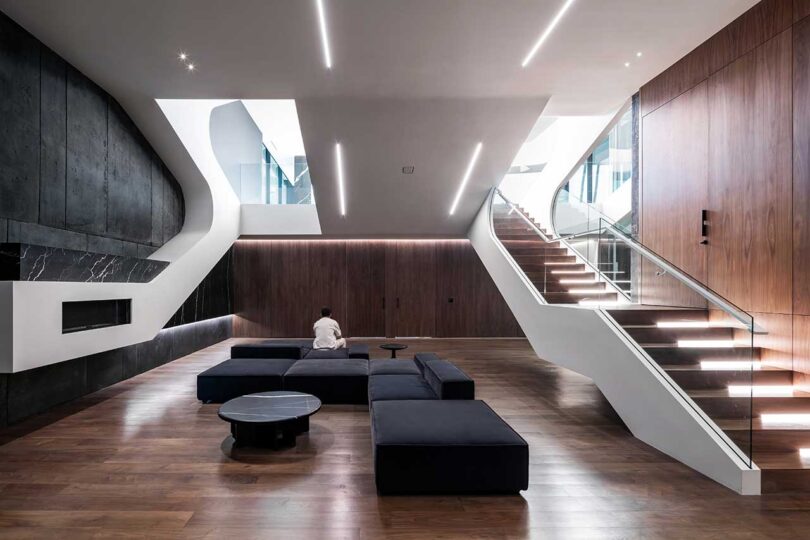 RO54 isn't just visually stunning, it's also a thoughtful, eco-friendly design. One of its innovative features is a courtyard, strategically designed to daylight the lower, underground bedrooms while simultaneously acting as a rainwater runoff filtration system for the entire home. This approach ensures that the project meets or exceeds stringent California green building and energy conservation standards.
The house incorporates additional sustainable elements, such as low-flow plumbing systems, drought-tolerant plants, rainwater filtration, photovoltaic integration, and a high-efficiency building envelope and glazing, a HERS rating for the mechanical system, and more.
The interior boasts meticulously sourced natural materials that adhere to low VOC standards. Mica plaster, hardwood flooring, and natural stone were selected to complement the overall design philosophy. The focus on minimal, low-impact, and proven materials ensures that the residence stands the test of time while maintaining a commitment to responsible design.
There's even a unexpected glass elevator that takes center stage.
Photography by Paul Vu, Renee Parkhurst, and Yuheng Huan, courtesy of v2com.
Source: design-milk