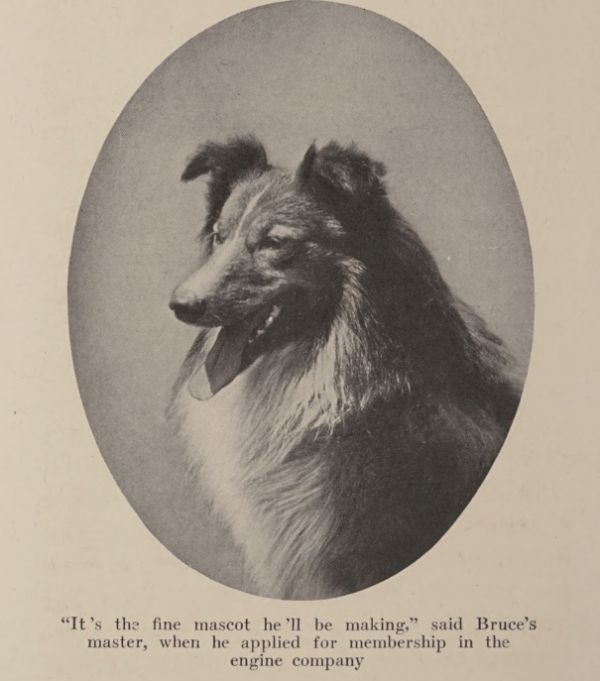 In 1893, James MacMurray gave up his job of tending sheep to become a New York City firefighter. He brought along his trusty collie, Robert Bruce. The dog was a trained and capable sheep dog, now expected to become a big city fire station mascot. They say you can't teach an old dog new tricks, but Robert Bruce was only two years old, and quickly came to understand his new responsibilities. In fact, he soon became a hero. In October of that year, the Nevius & Haviland wallpaper factory caught fire, which spread to the William Campbell paper factory.   
Flames were bursting from the windows of both factories by the time the first of many fire companies arrived. In their rush and excitement, the firemen of Robert Bruce's company forgot about the horses. Even fireman Pete Tinkum, who drove the engine that night, did not notice that the fire was beginning to spread at the corner of the block where his horses stood.

Since it was the dog's job to stay with the engines during the fires, Robert Bruce was the first to notice the horse nearest the flames succumb to the heat and collapsed.  He jumped from firemen to fireman to get their attention, but they were too occupied to pay the dog any mind. Finally, he jumped on Pete, who followed the frantic dog to the engine and saved the other horses just in time before they also suffocated.
That's a good dog. It was not the last time Robert Bruce saved lives during fires. Read about two other occasions in which the fire dog distinguished himself, including once where his sheep herding skills were crucial, at The Hatching Cat. -via Strange Company

Source: neatorama