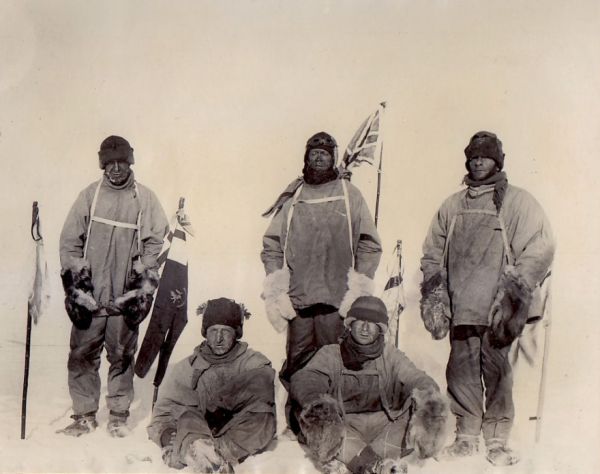 Captain Robert Falcon Scott's Terra Nova expedition was the second to reach the South Pole. They had aimed to be first, but arrived to find Roald Amundsen and his team already there. Scott's men went down in history for not making it back back. Scott kept a diary, jotting down his experiences during that tragic trek as they coped with blizzards, exhaustion, and lack of supplies. Scott is believed to have died on March 29, 1912, soon after his last diary entry. He and his last two team members were only found eight months later. Scott wrote farewell messages to his friends and family, and a letter to his wife was written over many days. It says, in part,
Well dear heart I want you to take the whole thing very sensibly as I am sure you will — the boy will be your comfort. I had looked forward to helping you to bring him up but it is a satisfaction to feel that he is safe with you. I think both he and you ought to be specially looked after by the country for which after all we have given our lives with something of spirit which makes for example — I am writing letters on this point in the end of this book after this. Will you send them to their various destinations?

I must write a little letter for the boy if time can be found to be read when he grows up — dearest that you know I cherish no sentimental rubbish about re marriage — when the right man comes to help you in life you ought to be your happy self again.

I hope I shall be a good memory certainly the end is nothing for you to be ashamed of and I like to think that the boy will have a good start in parentage of which he may be proud. Dear it is not easy to write because of the cold — 70 degrees below zero and nothing but the shelter of our tent.

You know I have loved you, you know my thoughts must have constantly dwelt on you and oh dear me you must know that quite the worst aspect of this situation is the thought that I shall not see you again. The inevitable must be faced — you urged me to be leader of this party and I know you felt it would be dangerous — I've taken my place throughout, haven't I?  
Scott's diary of the Terra Nova expedition is online -all 165 pages- when you have time to read it, but first read excerpts of his goodbye entries, inclusing the full letter to his widow, at Why Evolution is True. -via Nag on the Lake
Source: neatorama