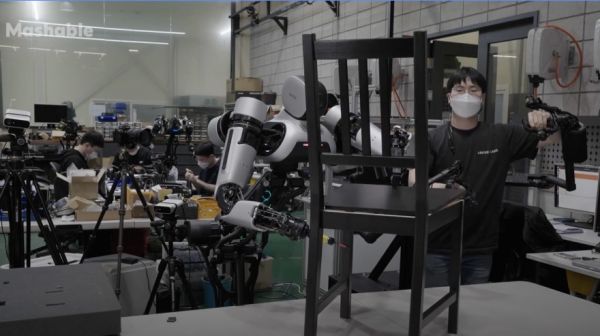 Naver Labs has developed a robot named Ambidex that is learning to assemble IKEA furniture. In a video at Mashable, you can see how Ambidex is connected by a haptic device to a human so it can learn to use tools like a human, and apply the proper amount of force and torque to put the pieces together. This is a pretty neat way to teach a robot, but I have questions.
First, this robot is being taught by an engineer who works in a robotics laboratory. He's probably assemble IKEA furniture before. I doubt he will be able to recreate the experience of real-world assemblers, who can't make heads or tails out of the illustrated instructions, can't find the included Allen wrench, and end up arguing about why they ever thought this was a good idea.
Second, what is the purpose of a robot putting furniture together? We have hi-tech furniture factories that do that already. The reason IKEA sells their furniture in flat packs for home assembly is to make getting it home easier and to reduce the labor cost. Does Naver Labs think that IKEA customers will arrange for a robot to come to their homes and put their furniture together?
My guess is that this is a proof of concept project, testing how well a robot learns from a human teacher with a haptic device. Teaching a robot to assemble furniture on its own doesn't have much of a real-world market. Oh yeah, Ambidex can play table tennis, too. That's more in line with what robotics engineers really want to do.
Source: neatorama