The following post is brought to you by Salone del Mobile.Milano. Our partners are hand picked by the Design Milk team because they represent the best in design.
In just about a month and a half, the international design world will once again turn to Milan, Italy for the 59th edition of Salone del Mobile.Milano, an event that leads the way in creativity, innovation, and quality. From April 21 through the 26th, visitors will be able to explore the best of the best via contemporary exhibits and programs that aim to expand upon Salone's Manifesto that strives for 'innovation and interconnectedness' within the city of Milan. This year the 2,200 exhibitors will be showcasing products and concepts with a strong focus on pushing the limits of sustainable and ethical design – a topic that's only gaining momentum.
But let's break it all down further into the various parts of Salone, including the return of SaloneSatellite.
EuroCucina, now into its 23rd edition, will be hosting 84 exhibitors in a fresh format that allows for companies with a focus on total living to showcase their kitchen concepts throughout the pavilions. As kitchen design continues to become more integrated, the change in exhibitions reflects how those changes might work in the home. Not only will visitors to Salone 2020 have the chance to view high quality contemporary products, they'll also get a peek into how these spaces are likely to evolve.
FTK – Technology For The Kitchen – enters its 8th edition with 40 exhibitors ready to highlight smart connection, increased connectivity, and every-saving appliances. As EuroCucina's collateral event, FTK gives a glimpse of the latest innovative products, concepts, and visions of the future. Visitors will see cutting edge built-in technology, cooker hoods, refrigeration, freezing, cooking, and extraction products with performances resulting in cut consumption and enhanced quality of life.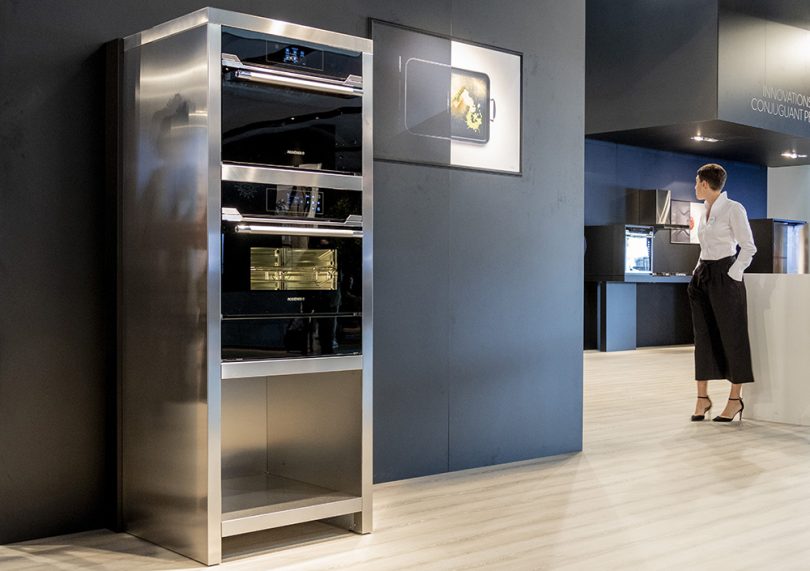 The International Bathroom Exhibition continues to become more dynamic as it heads into its 8th edition, showcasing 179 exhibitors purveying the best of the best in international bathroom manufacturing. As the bathroom space continues its ongoing evolution into a more technological, efficient, and sustainable place, these companies are looking to guide us along. Shower furniture, accessories, radiators, fittings, and whirlpool tubs will provide contemporary design that check these boxes without compromising on comfort.
After its successful 2019 debut, S.Project returns with a focus on design products and interior design concepts of vision, evolution, and technology. The exhibition hopes to reflect the latest market and societal demands that have been trending in a fluid, multi-sectoral format that blends seamlessly into other events.
Like S.Project, Workplace 3.0 will also explore the latest market demands, though in this case through office space designs with enhanced customization and sustainability features. To underscore the point of social office culture transforming into a more flexible, dynamic space, the exhibitors will have a presence throughout the event.
To dig deeper into the original story of Salone del Mobile.Milan and understand its Manifesto, attendees will have the opportunity to experience The Magic Box, a 3-act audio-visual installation that will be public April 21st through May 3rd at Palazzo Reale's Sala delle Cariatidi. Ten Italian filmmakers will each direct a short film representing one of the Manifesto's ten values: Emotion, Enterprise, Quality, Design, Networking, Communication, Culture, Young People, Genius, and Milan, with the hope of reigniting a sense of wonder within the viewer through a memorable and immersive interaction.
SaloneSatellite, one of our favorite sections of the event,  invites 600 young designers to take notice of social issues in design such as promoting autonomy, comfort, user-friendliness, interaction, and safety for all. The theme is 'Designing For Our Future Selves' — the idea being the changing needs we experience throughout our lifetimes, whether temporary or permanent, and how sustainable products can be designed for longer use by more people.
Salone de Mobile.Milano 2020 is bound to be a monumental international design event as always, bringing the future of the industry into focus through innovative contemporary concepts and products.

Source: design-milk