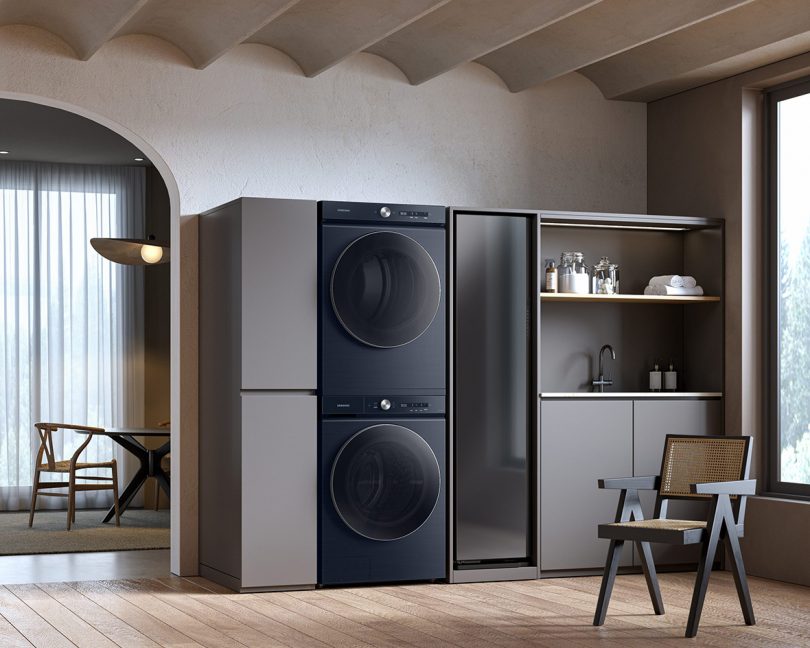 Walk into any big box shop's home appliance section and you'd think we lived in a completely monochromatic world where our only viable options are stainless, black, or white. It's puzzling, noting homes from generations past were filled with color well into the 1980s before brushed and stainless steel transcended its luxe-utilitarian origins to become a stifling standard. Which makes it rather refreshing to see Samsung take a serious stab at appealing to recent trends inviting more color into the hearth of the home, starting in the kitchen.
That same blandness has long limited options within the laundry room, a utilitarian space which has only just begun to receive some tentative special attention moving beyond just practical functionality. Don't believe us? Just drop over onto Pinterest and search "laundry room," then ogle the variety of stylishly appointed spaces designed for wash and fold flex.
Which makes Samsung's latest foray a calculated attempt to tastefully inject some color without pushing the boundaries too far into the realm of the brand's more daring and delightfully brighter paneled options that have given their refrigerators a new life (now bring us those greens and yellows!).
The Samsung Bespoke AI Laundry washer and dryer pair is still available in perfectly tasteful Silver Steel and a chic Brushed Black. But just like Apple wowed and wooed us recently with the unveiling of their latest mood indigo tinged Midnight finish across the new MacBook Air, Samsung's Brushed Navy is the hue that impresses the most dreams of updating the laundry room.
Whichever option chosen, the tandem can be placed side by side or stacked for space efficiency, with the option to switch whenever preference or needs dictate. Definitely not an option we can fathom with our inherited pair of Kenmore washer and dryer units that likely originated well before such configurations were common and detergent pod use (or ingestion) became a thing.
Samsung claims their Bespoke AI is particularly efficient at determining which cycle selections are best matched to the contents of its load, adjusting detergent and wash cycles according to the dirt levels and fabric types sensed; detergent and fabric softener is stored within the washer and dispensed as needed, a clutter-busting detail. We haven't yet had the opportunity to put their cleaning AI acumen claims to the test, but Samsung has at least made an argument it's okay to mix your whites and blues in the laundry room in regards to industrial design and the home.
Bespoke Ultra Capacity AI Front Load Washer and Electric Dryer in Brushed Navy (and Brushed Black or Silver Steel) is available for order at Samsung.com.
Source: design-milk