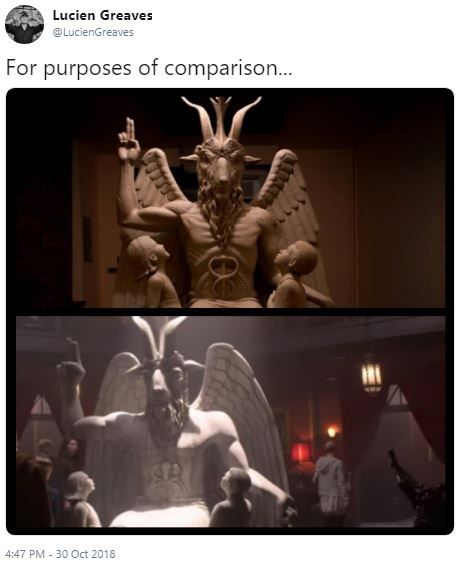 The Satanic Temple was offended by The Chilling Adventures of Sabrina presenting their Baphomet statue as "the devil." Now Netflix and Warner Brothers have a lawsuit on their hands:
Satan "is a literary figure symbolic of the eternal rebel in opposition, rather than the personalization of evil," per the Temple. A key tenet of members and supporters of the Temple is that Satanists deserve as much protection and respect as followers of any religion.
The Temple "commissioned … Baphomet … to be a central part of its efforts to promote First Amendment values of separation of church and state and equal protection," the complaint stated. "Defendants' prominent use of this symbol … associated with evil, cannibalism and murder blurs and tarnishes" the Temple's Baphomet.
Read the rest over at HuffPost
Image: @LucienGreaves
Source: neatorama