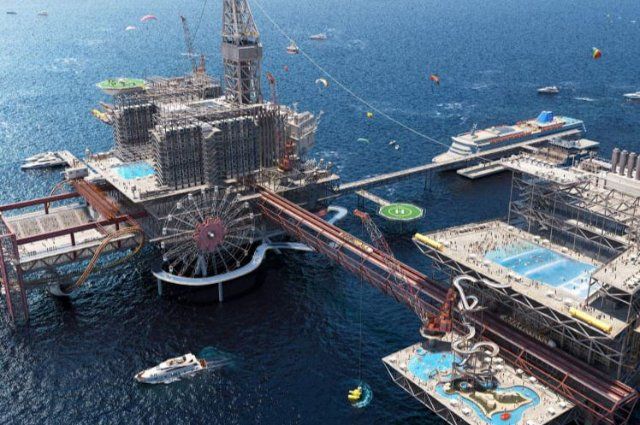 🎢 What do you do with an old decommissioned oil rig? Saudi Arabia has a wild idea: turn it into an oil-themed extreme theme park. Rides include heart-thumping roller coasters, bungee jumping and other thrilling rides for adventure seekers. Meanwhile, us normal people get heart palpitations just looking at the rising gas prices.
👻 A Babylonian clay tablet dating from 3,500 years ago was revealed to have the oldest known drawing of a ghost ever. Bonus: the back of the tablet contained instructions on how to get rid of such a ghost. No wonder the Babylonians ain't 'fraid of no ghost.
📘 Here are some homes of famous authors that you can visit.
🐕 Aww story of the day: couple driving through the Spanish mountainside noticed a small Shorkie chasing their car in the middle of nowhere, so they adopted it (Maybe the dog was just running away from high gas prices)
🎥 Studson Studio made Howl's Moving Castle out of trash and pieces of junk, and we are absolutely enchanted by it.
🍦 I scream, you scream, we all including even the dog – scream for ice cream. Here's a dog getting excited to see the ice cream truck.
🏠 The house featured in Wes Craven's A Nightmare on Elm Street is for sale for $3.25 million, and if you love horror movies (and have $3.25 million), it may just be your dream house.
🚢 What do you do when you want to move your house but there's no overland route? You float the house across the bay, of course. The REAL nightmare started when the house sprung a leak and began to sink, and one of the boats pushing it stalled. Not even Wes Craven could've thought that up.
Find more neat and interesting stories over at our new network of sites: Pictojam, Supa Fluffy, Homes & Hues, and Pop Culturista. Thank you for checking 'em out!
Source: neatorama