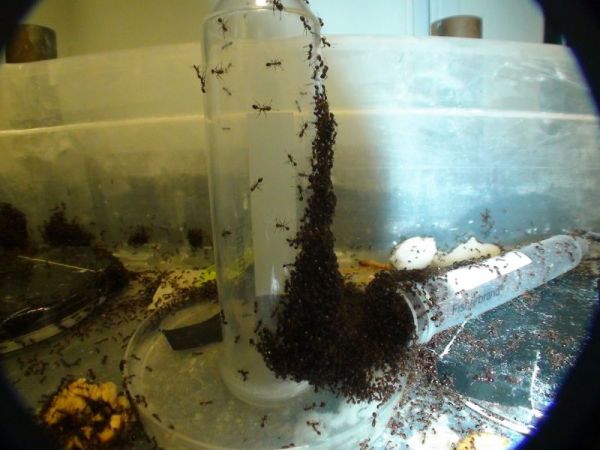 Fire ants, when trapped, will build a tower of ants in order to escape. Researchers at Georgia Tech, instead of looking for ways to kill the invasive insects, studied the architecture of ant towers. David Hu and Craig Tovey observed how ants at the bottom supported the weight of those above, and how ants reaching to top of the tower stopped to let others crawl on top of them. They left a video recorder on for an hour after the tower was completed and went to do something else. Later, not wanting to watch an hour of ants, they viewed the video at ten times the normal speed. That's when they discovered that the completed tower kept sinking, and had to be constantly rebuilt.
To confirm the sinking behavior, Tovey and Hu contacted experts at at Lawrence Livermore Labs and other institutes. They were told that the technology did not exist to track individual particles in the interior of a three-dimensional object, at the time and size scales of ant-made towers, without killing the insects. But when they talked to an expert at Georgia Tech, they were referred to Daria Monaenkova, a postdoctoral researcher working in Dan Goldman's physics lab. Monaenkova, who would subsequently become a co-author of the new study, happened to be working on an x-ray technology that would enable the researchers to peer inside the ant tower itself.
And that's where the story gets really neat. They actually fed radioactive iodine to some of the ants in order to track them by X-ray in real time to confirm the sinking tower. They determined that it was because the ants at the bottom understandably got tired and left. You can read the story and see both the original video and the X-ray version at Gizmodo.
(Image credit: D. Hu et al., 2017)
Source: neatorama