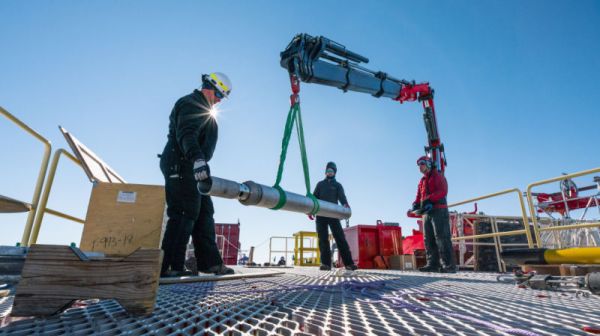 Scientists have detected hidden lakes trapped underneath the vast ice of Antarctica -400 of them so far! Back in 2013, we reported on the first one that had been reached by drilling. The samples brought up contained previously-unknown bacteria. Now a second sub-glacial lake, called Lake Mercer, has been exposed by a drilling project. The team hauled in a million pounds of drilling equipment to the site, 650 miles from McMurdo Station, early last month.
According to the latest SALSA blog post, the team began drilling its main borehole on the evening of December 23. (A secondary borehole that acts as a well, its water back-pumped into the main hole after being filtered and sterilized, was started a night earlier, Priscu told Earther.) Things apparently proceeded smoothly, with the team reaching the 54-square-mile lake on the evening of December 26 after drilling to a depth of 3,556 feet (1,084 meters).

Now that the lake is open, the real fun has begun. The SALSA team is deploying a suite of instruments to study the lake, including a CTD (Conductivity, Temperature, Depth) probe that will assess temperature and provide details on the structure of the water column, and a remotely operated vehicle to take similar measurements away from the borehole and capture 4k video. Researchers will collect samples of water and microbial DNA, as well as ice from the top of the lake and sediment from the bottom.
Read about the expedition and the further possibilities of the project at Earther.
(Image credit: SALSA)
Source: neatorama