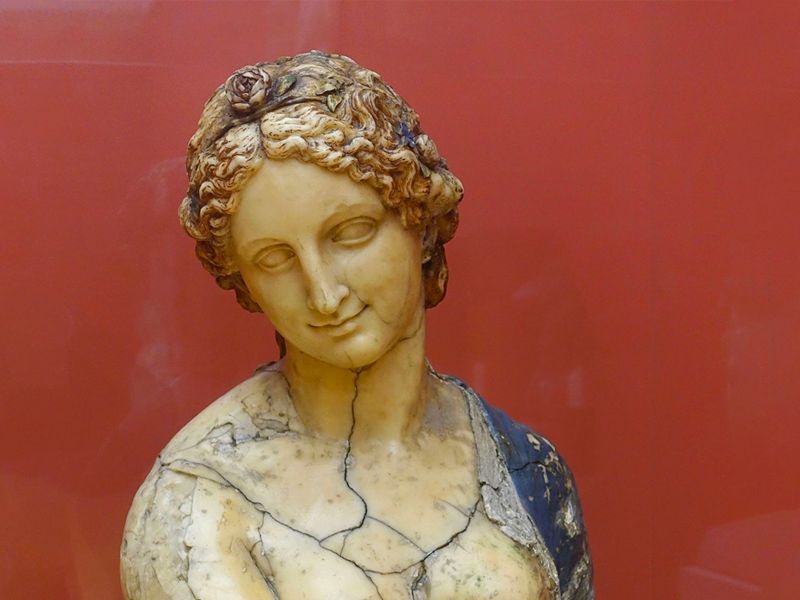 Spoiler alert: the sculpture in question was not made by Da Vinci. A sculpture of Flora, the Roman goddess of flowering plants, has been the subject of long debates concerning its origins. Housed in the collection of Berlin's Bode Museum, the art piece has been investigated by a trio of researchers to prove that Da Vinci didn't create the sculpture. The team took samples from the bust and used radiocarbon dating and chemical analysis to pinpoint the work's creation to the 19th century, which is 300 years after Da Vinci's death:
When the researchers analyzed samples taken from the bust, they determined that it was composed of spermaceti—a waxy material found in the heads of sperm whales and bottlenose whales—and beeswax. Per Mindy Weisberger of Live Science, spermaceti was rarely used by Renaissance artists but had become increasingly commonplace by the 18th century. At the time, noted Cosmos' Martin Harris in 2014, the wax was used in cosmetics, pharmaceuticals, industrial lubricants and candles.
The sculpture's blend of terrestrial and marine sources complicated the dating process, as "carbon consumed by the organisms in deep and shallow seawater is older than that consumed on land," write the authors in the study.
The scholars add, "To further complicate the procedure, the location of the marine source"—in this instance, the whale that provided the spermaceti—"must be known to accurately calibrate marine material."
To overcome these obstacles, the team developed an entirely new calibration method that took into account the amount of spermaceti versus beeswax present in the Flora bust. Per the Art Newspaper, the analysis yielded a date range of 1704 to 1950.
Image via the Smithsonian
Source: neatorama