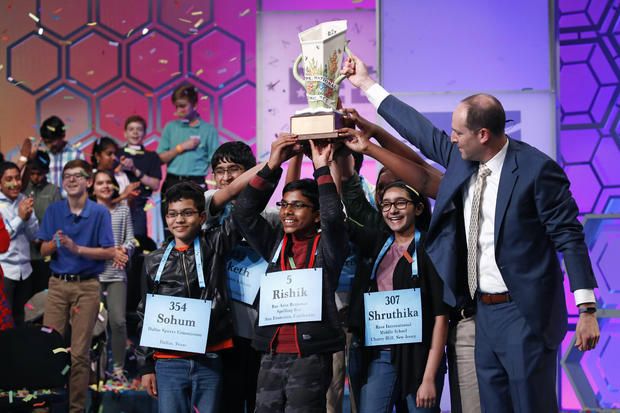 The Scripps National Spelling Bee had not just one winner or even two co-winners for 2019. It has crowned eight co-winners.The contestants spelled forty-seven words correctly, after going through five consecutive perfect rounds.
"Champion spellers, we are now in uncharted territory," bee pronouncer Jacques Bailly told them in announcing the decision to allow up to eight winners. "We do have plenty of words remaining on our list. But we will soon run out of words that will possibly challenge you, the most phenomenal collection of super spellers in the history of this competition."
The bee's rules called for no more than three spellers to share the title. The possibility of four or more winners wasn't considered before Thursday. Paige Kimble, the bee's executive director, said bee officials developed a contingency plan for multiple champions after gauging the spellers' performance in the earlier final rounds.
The winners, six boys and two girls from Alabama, California, Maryland, New Jersey, Pennsylvania and Texas, ranged in age from 12 to 14 and dubbed themselves "octo-champs." The winners were: 
Rishik Gandhasri
Erin Howard
Saketh Sundar
Shruthika Padhy
Sohum Sukhatankar
Abhijay Kodali
Christopher Serrao
Rohan Raja.
Congratulations Octo-Champs! via-CBS News
Image Credit: Patrick Semansky/AP
Source: neatorama