When Sean Spicer embargoed cameras from a White House Press briefing last week, an artist stepped in with a creative way to exercise the press' freedom of expression. Courtroom sketch artist William J. Hennessy, Jr. lent his speed drawing skills to CNN in lieu of still photographs. The drawings provide vital visual elements like Spicer's facial expressions and demeanor as he fielded questions.
Hennessy approached CNN when he heard about the ban, and the news outlet quickly agreed to send him to the briefing. "Some conservative media voices dismissed it as a stunt, but CNN argued that the sketch session did serve a journalistic purpose, in the same way that courtroom sketches do," the news outlet writes. "CNN equated the briefing to a Supreme Court argument—an on-the-record event at which cameras are banned."
On June 23, Hennessy discretely set up shop in the back of the press room, drawing without an easel next to the the inactive camera operators. "My intent in covering the briefing was very much like my intent when I work in the courtroom," the artist, who sketched Bill Clinton's impeachment and other high profile trials, tells Creators. "I simply tried to portray what I saw accurately without editorializing." Hennessy says the room's response to his presence was "generally favorable."
Hennessy states his primary purpose was "to provide visuals for a story that was otherwise lacking them," but admits his art has larger implications. "This situation did strike me as bizarre, and I honestly did think that bringing me in to provide visuals of a normally televised White House news briefing would hopefully point out the misguided choice to ban the cameras," he says. "But that's my opinion."
White House correspondents have criticized the camera ban, but have so far complied. Twitter users like Elliott Higgins, in turn, are criticizing the media. "Seriously, turn on the fucking cameras, you fucking cowards, this is the darkness democracy dies in," the founder of open source investigative journalism platform Bellingcat tweeted on June 26.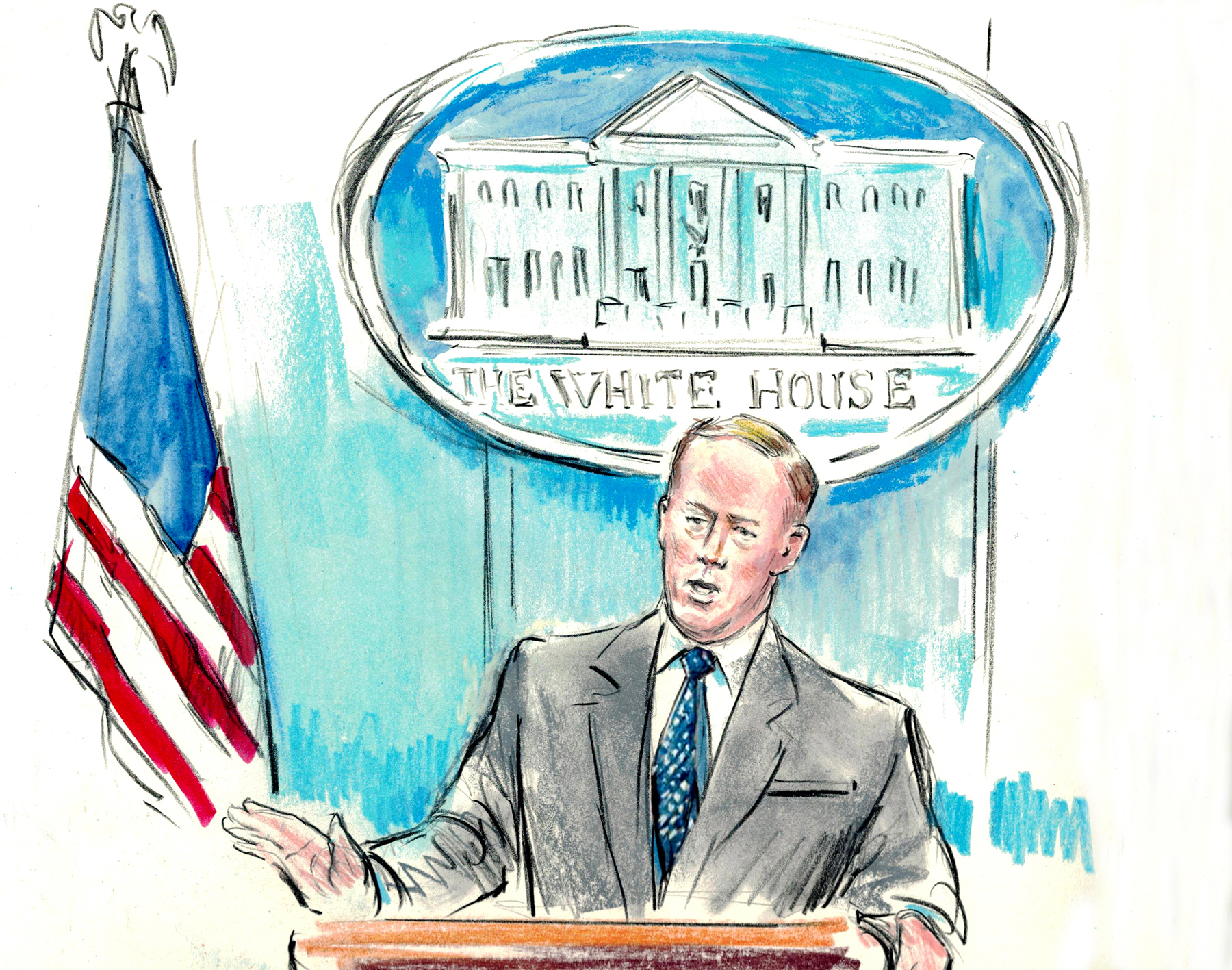 The White House has banned cameras at 10 of June's 15 press conferences as of June 26, according to CBS White House News Correspondent and prolific tweeter Mark Knoller. On Monday, Spicer allowed still photography, allegedly after negotiations with the White House Correspondence Association, with the comment, "Putting sketch artists out of business now." Today, a live broadcast of the conference was allowed.
Spicer has promised sporadic camera bans with little explanation. "Some days we'll have them, some days we won't," he said on June 23. Hennessy says he "would of course be happy to provide visuals for future White House news briefings," if CNN asks him back. "As it stands right now, I have not received the request. But that could change."
See William J. Hennessy, Jr.'s work on his website.
Related:
This Sculpture Simulates Politics with Angry, Indecipherable Beeping

Satanic Art: A Fight for Freedom
[NSFW] 'Rick and Morty' Reenact the Viral "Judge F*ckman" Courtroom Transcript
Source: vice.com