Seda Saar began her career as an interior designer and colorist in Silicon Valley and later Themed Entertainment in award winning theme park attractions for major Hollywood studios. Today she is an independent artist who works in multiple disciplines including painting, photography, sculpture, and installation and her art is in various collections, private and public across the USA, Middle East, and Europe. Her work reflects a fascination with the visual and emotional effects of space, color, light and the changing alignment of form as one's viewpoint changes.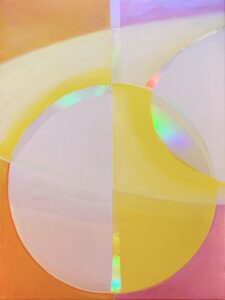 Hi Seda, I'm so glad to have you speak with us today. To get us started, can you tell us about your style as an artist?
First, I always see the sun! I always have been inspired by light and how it makes me feel. My image-making process is guided by a will to transform. I want to affect the viewers psyche and transform through emotional reactions. By creating moments that play with natural light on the surface of the paintings or sculptures, it allows a space for transformation.
What is your creative process for these works?
In my paintings, I use assemblages of cardboard, digital drawings, film, paper, and other castaway materials, to carefully compose arrangements which I manipulate through Photo apps. Translucent and luminous surfaces, often found in nature, fuse together and cast shadows on the surfaces of my paintings, adding to the holographic appearance. Finally, to enhance their mystical opacity, I overlay prismatic brushwork on the printed canvas, that draws attention to certain areas while concealing the image underneath. These brushed overlays of acrylic paint generate a humanistic experience as the mind wonders seamlessly between digital and material realms.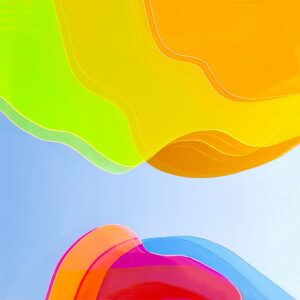 When did your journey as an artist begin and how did it lead you to where you are today?
I feel I was born an artist as my earliest memories are that of drawing on whatever I could find. I continued to draw with pencil and pastels throughout boarding school and high school. I won a British young artist award (Second place) at age 15.
Later on, I transferred to Interior Design and Interior Architecture studies at London Metropolitan, after one year of studying a foundation course for Fine Arts at Chelsea school of Art, but continued drawing and painting in my spare time as I started my career as a designer.
In 2012, I stopped using oils and had to transition to digital painting. This was due to a health precaution as I never used gloves and the chemicals in the oil paint I was using were seeping in through my hands. It was emotional to stop painting altogether for a while when I was healing myself, but the transition to digital painting came easily as I was used to architectural programs. And later on, I slowly started using the real brush and acrylic paints, making sure to protect myself.
What was your experience creating Van Gogh NFTs on The Other Avatars?
I think Van Gogh himself loved the sun and was brilliant at capturing its rays and play on surfaces.
His work always inspired me when I used to paint landscapes and I remember that I did a painting once that someone bought and told me it reminded them of Van Gogh's brushstrokes.
My first approach was to mimic his style, but later on I decided to create the backgrounds from my own work and the result was much more profound!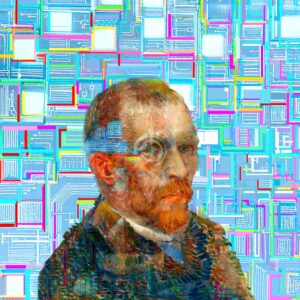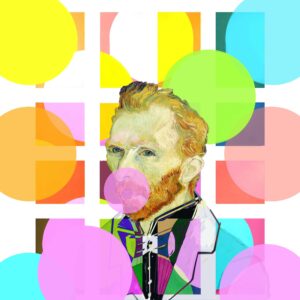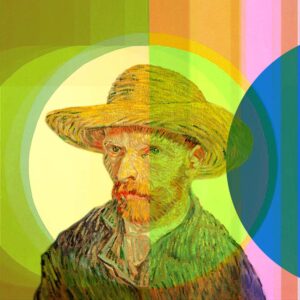 Is there anything you would like to tell new artists interested in creating NFTs?
I think it's important to know your audience in order to create a series that relates- Perhaps having a backstory helps!
Love reading about all things art? You can have articles from Canvas, curated collections, and stories about emerging artists delivered straight to your inbox. Sign up for the Saatchi Art Newsletter.
Source: saatchiart.com