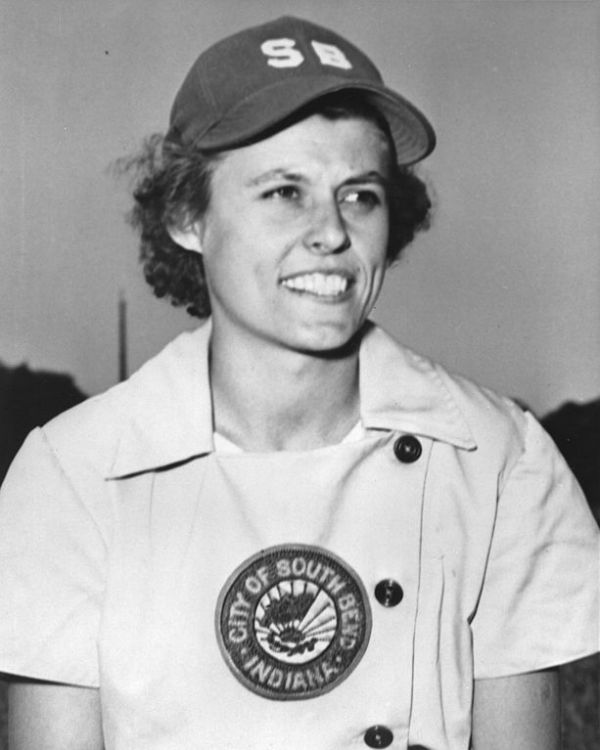 On May 30, 1943, the All-American Girls Professional Baseball League debuted to fill a shortage of baseball players due to World War II. Like the women who filled factory jobs during the war, they stepped up to the plate and proved that women can do what was normally seen as men's work at the time. Betsy Jochum (pictured) was the star batter for the South Bend Blue Sox. Her uniform is now enshrined in the Smithsonian National Museum of American History, but Jochum, now 97, says no one today would know about the league at all if it weren't for the movie A League of Their Own.
The ballplayers were for the most part factory-town women happy to have the paycheck until the men got home, observes Kelly Candaele, a filmmaker whose PBS documentary about his ball-playing mother was the inspiration for Marshall's film. "Most of them didn't approach this thing academically, like, oh, they were pioneers and proto-feminists," he says. It was decades before they grasped how much they meant to the workplace, how much credibility they conferred on their gender with sheer physical competency, similar to the more than 475,000 Rosie the Riveters who worked in the U.S. munitions industry. If Jochum's uniform is emblematic of what a little opportunity can do, it's also threaded with stigma and represents the halting one-step-forward, two-steps-back progress that women faced. When Jochum asked for a raise, her disapproving club owner traded her to Peoria. "If you didn't do what they told you, you know how that goes," she says. Instead of accepting the trade she retired in 1948, got her college degree at Illinois State and became a middle school physical education teacher in the South Bend schools.
Read about Jochum and the short-lived All-American Girls Professional Baseball League at Smithsonian.
(Image credit: The History Museum)
Source: neatorama