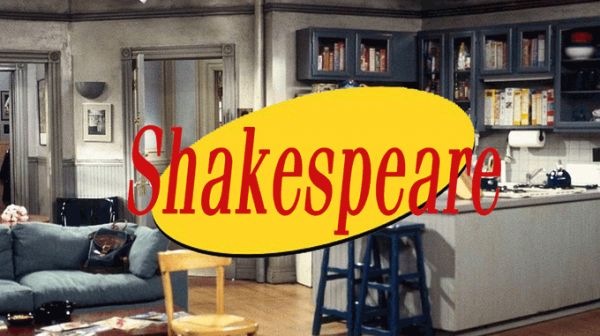 The iconic sitcom Seinfeld is often described as a "show about nothing", or to, borrow a play title from William Shakespeare, Much Ado about Nothing. It is fitting to let the Bard of Avon have a go at screenwriting for this comedy program. At McSweeney's Internet Tendency, Michael Leonetti and Nick DiMaso rewrite scenes from Shakespeare plays as though they were Seinfeld episodes. Here's a passage from Romeo and Juliet in which Romeo and Mercutio attempt to make a purchase from the Soup Nazi:
Romeo and Mercutio wait in line in a Verona alley.

ROMEO: Now, Mercutio, remember what I said: he's very peculiar about his wares.

MERCUTIO: I'm aware. He's wary of selling his wares.

APOTHECARY: NEXT!

Romeo and Mercutio enter the Apothecary's store. Mercutio steps up to the counter.

MERCUTIO: Medium coma-potion.

Mercutio pays the assistant but notices his order is missing something.

MERCUTIO: Uh, excuse me… but where is the dram of poison?

ROMEO: Leave it, Mercutio.

APOTHECARY: You want such mortal drugs, little man?

MERCUTIO: I would very much like it, please.

APOTHECARY: ONE HUNDRED DUCATS!

MERCUTIO: One hundred ducats? For a dram?

APOTHECARY: NO POTION FOR YOU. RETURN HENCE, FIVE AND THREE HUNDRED AND SIXTY DAYS!
Read it all for selections from Hamlet, the Merchant of Venice, Pericles, Prince of Tyre, and the Scottish Play.
-via Debby Witt
Source: neatorama