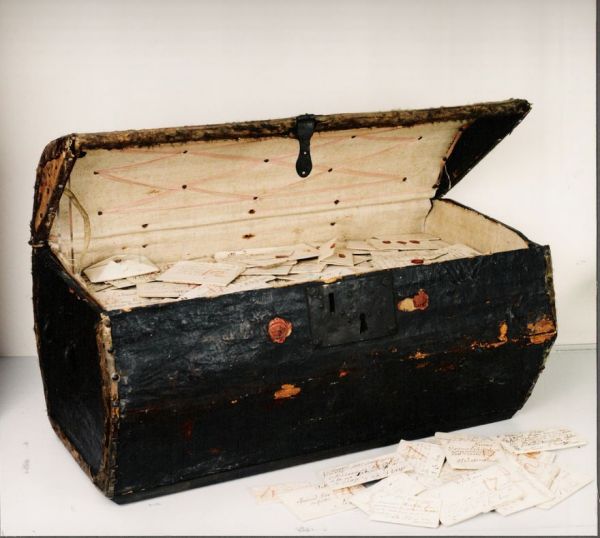 Simon de Brienne and Marie Germain were longtime postmasters of The Hague, Netherlands, in the late 17th century. When they died with no heirs, they left their estate to an orphanage. Among those treasures was a sealed trunk containing around 2600 letters that were never delivered for one reason or another, which was acquired by the Dutch postal museum in 1926. Those letters give us a rare glimpse into the world of everyday communications from 300 years ago. Some of the letters are heartbreaking, like Leendert van Muers' 1694 letter to his wife, informing her that he'd been captured by the French army.
    "I wished with God's help that I were with you again, because my heart is aching to be separated from you, in a country and under a people whose language I nor my fathers ever knew."

He was eventually forced to enlist in the French army for two years, and is hoping it will soon be peace again, allowing him to return home. He closes the letter by wishing his wife, kids and family "a hundred thousand good nights, and a happy new year."

But alas, the letter never arrived.
Other letters are businesslike, prurient, mundane, or sweet. They were mailed in many languages, on bespoke paper or pages torn from books, some letterlocked or coded, written with a variety of inks. Researchers began opening, analyzing, and translating those letters in 2015, and now have launched a fascinating online exhibit to reveal what they've learned. Begin the exhibition tour here. -via Metafilter
(Image and text credit: Rebekah Ahrendt, Nadine Akkerman, Jana Dambrogio, Daniel Starza Smith, David van der Linden, Sound and Vision The Hague, and the Massachusetts Institute of Technology (M.I.T). CC BY-NC 4.0)
Source: neatorama