In the late 19th century, Southern California attracted misfits, idealists, and entrepreneurs with few ties to anyone or anything. Swamis, spiritualists, and other self-proclaimed religious authorities quickly made their way out West to forge new faiths. Independent book publishers, motivational speakers, and metaphysical-minded artists and writers then became part of the Los Angeles landscape. City of the Seekers examines how the legacy of this spiritual freedom enables artists to make creative work as part of their practices.
When it comes to art, "kitsch" is usually a derogatory term describing objects that are overly sentimental, gaudy, and in poor taste. But when Norwegian figurative painter Odd Nedrum gave a speech in advance of his solo show in Oslo back in 1998, he effectively redefined the term. No longer was kitsch simply a synonym for tacky, tawdry, vulgar, and cheap: it's come to define an artistic style imbued with vigor, tenderness, and poignancy, delivered with a technical expertise reminiscent of Old Masters and directly rejecting the shiny aesthetic conventions of modernism.
Since Nedrum's declaration in favor of kitsch (articulated in his subsequent book), a kitsch movement has emerged, and one of its adherents is LA-based Welsh artist Richard J. Oliver.
Oliver once aligned his style with Pop surrealism, but he eventually began to reject the genre's irreverent, cynical, and biting attributes in favor of a painting method the artist describes as "a sincere response to beauty, suffering and the sentimental," which he believes is in keeping with Nedrum's definition of kitsch.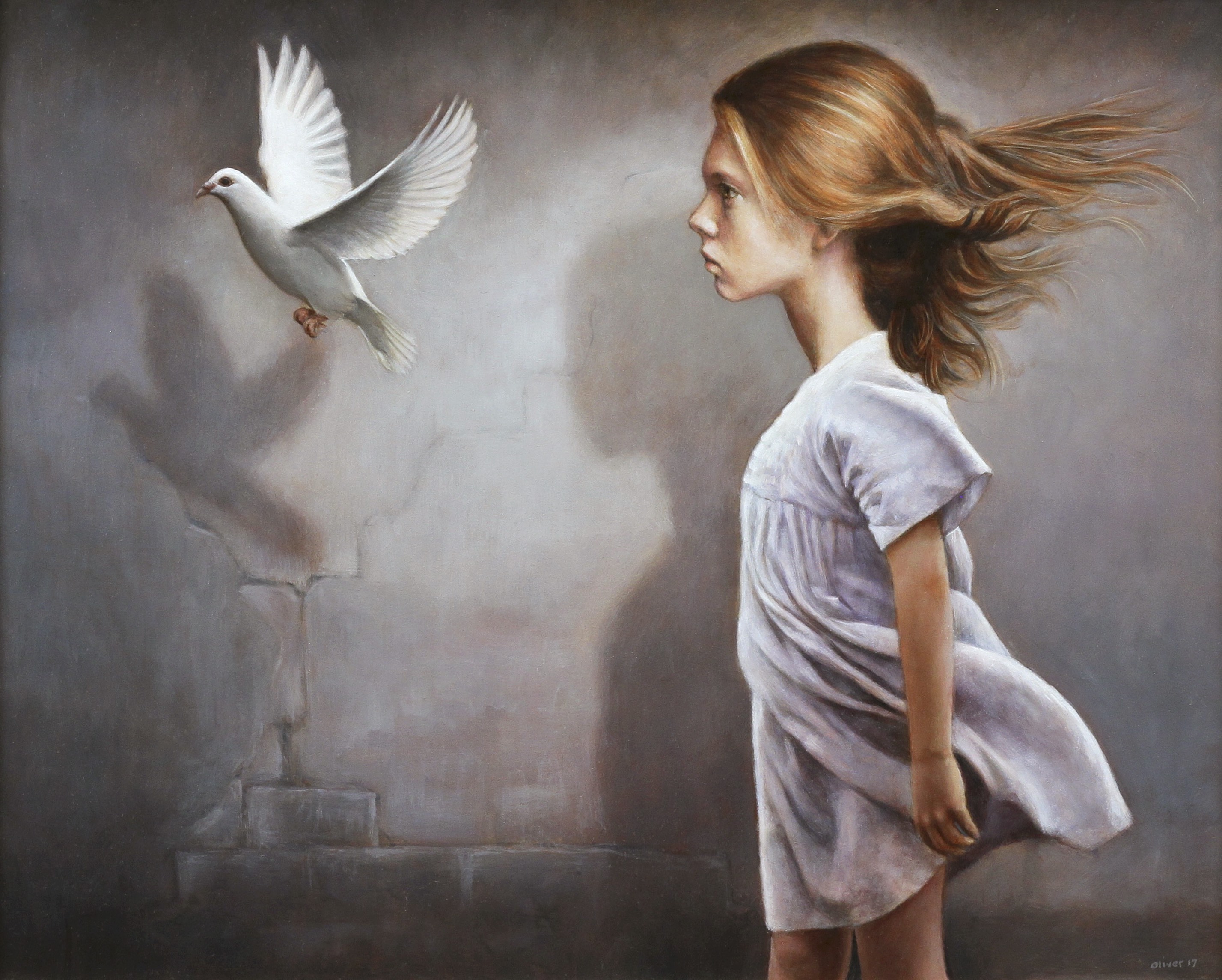 "I have a commitment to beauty and the struggles of our human condition, with the emphasis being on the individual, relying on motifs and archetypes with less emphasis on originality and innovation for their own sake," he tells Creators.
The artist works mostly in oil on linen or gesso board using a renaissance-era technique in which a painting is created exclusively through various shades of the same neutral color. He then applies multiple thin, transparent layers to the underpainting. "I feel this brings out the most vibrant and also realistic skin tones and adds an ethereal glow to the paintings," he explains.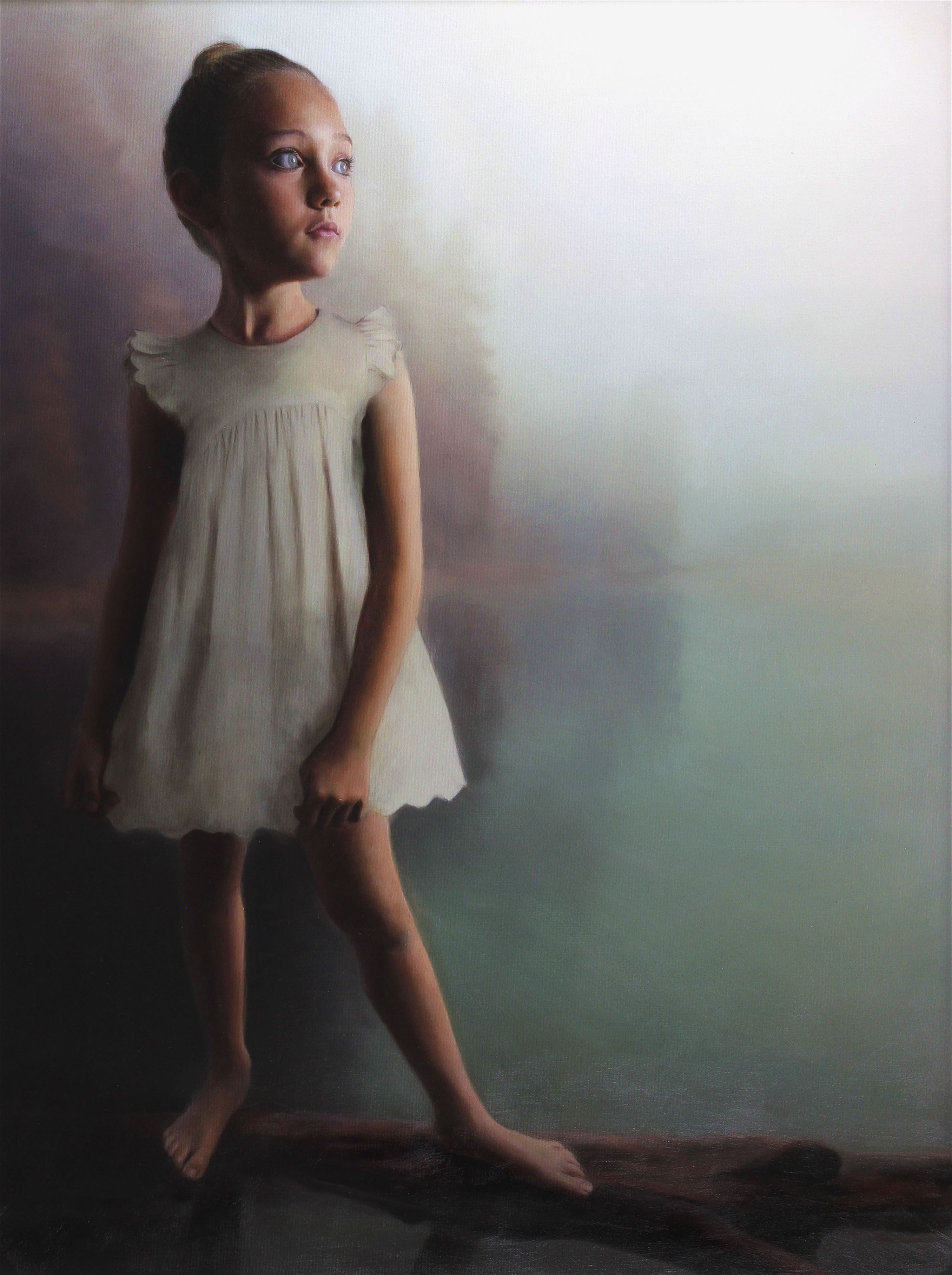 With a new solo show called Immersion at LA's Corey Helford Gallery, Oliver describes his latest series of oil paintings as "much quieter, simpler and spacious" than he initially intended.
"My previous work was much more noisy, but I simply couldn't bring myself to add superfluous elements and ambiguity to hide behind in these new paintings. It is a very vulnerable show and took much courage for me not to fill the paintings with overly descriptive yet aimless meanings. I surrendered to the fact I am not good at translating mental concepts into a visual expression and gave in to my feelings and intuitive responses. In a sense, these new paintings try to be more like haiku poetry by evoking feeling through simplicity rather than my previous brash attempts to describe literal narrative. I simply wish to connect and resonate with the viewer who also experiences both the unbearable beauty and sea of sorrows of our human incarnation in order so we can together tend to the feelings of isolation and separateness within us all."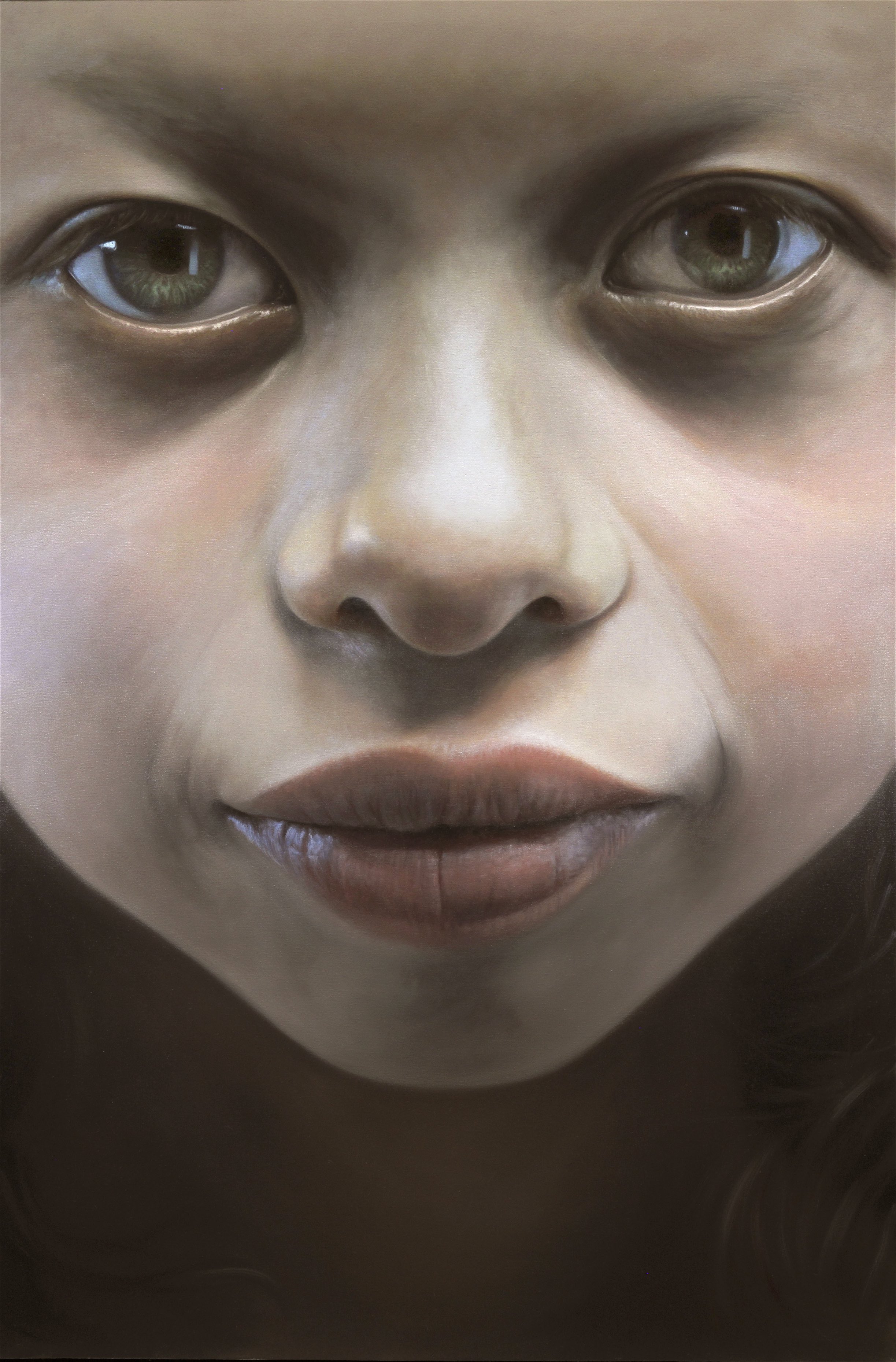 Oliver's creative process begins with him clearing his mind and relying on a type of nonlocal internal response to artistic scenes, including form and arrangement. "I try to keep conceptual implied narratives at arm's length and only introduce elements that support the feelings and emotions I wish to evoke," he says. "I guess I'm attempting not to pigeonhole myself by maintaining a rigid list of influences, but it's difficult because often I'm either completely immersed in a cacophony of visual arts via social media, or I'm completely detached and disconnected in order to try focus on my own song. The oscillation between the two is determined by my level of confidence or fragility."
Like many of his contemporaries in Los Angeles, Oliver embraces a type of perennial philosophy that incorporates Buddhist teachings, specifically the idea of mindfulness and nature. "I take much more spiritual nurturing from the natural environment than I do from society and culture," he says. "I immerse myself in nature daily, and much like my hero John Muir, my own spiritual and soul journey starts and ends quite literally in the mountainous or coastal environments here in California where I run and hike extensively."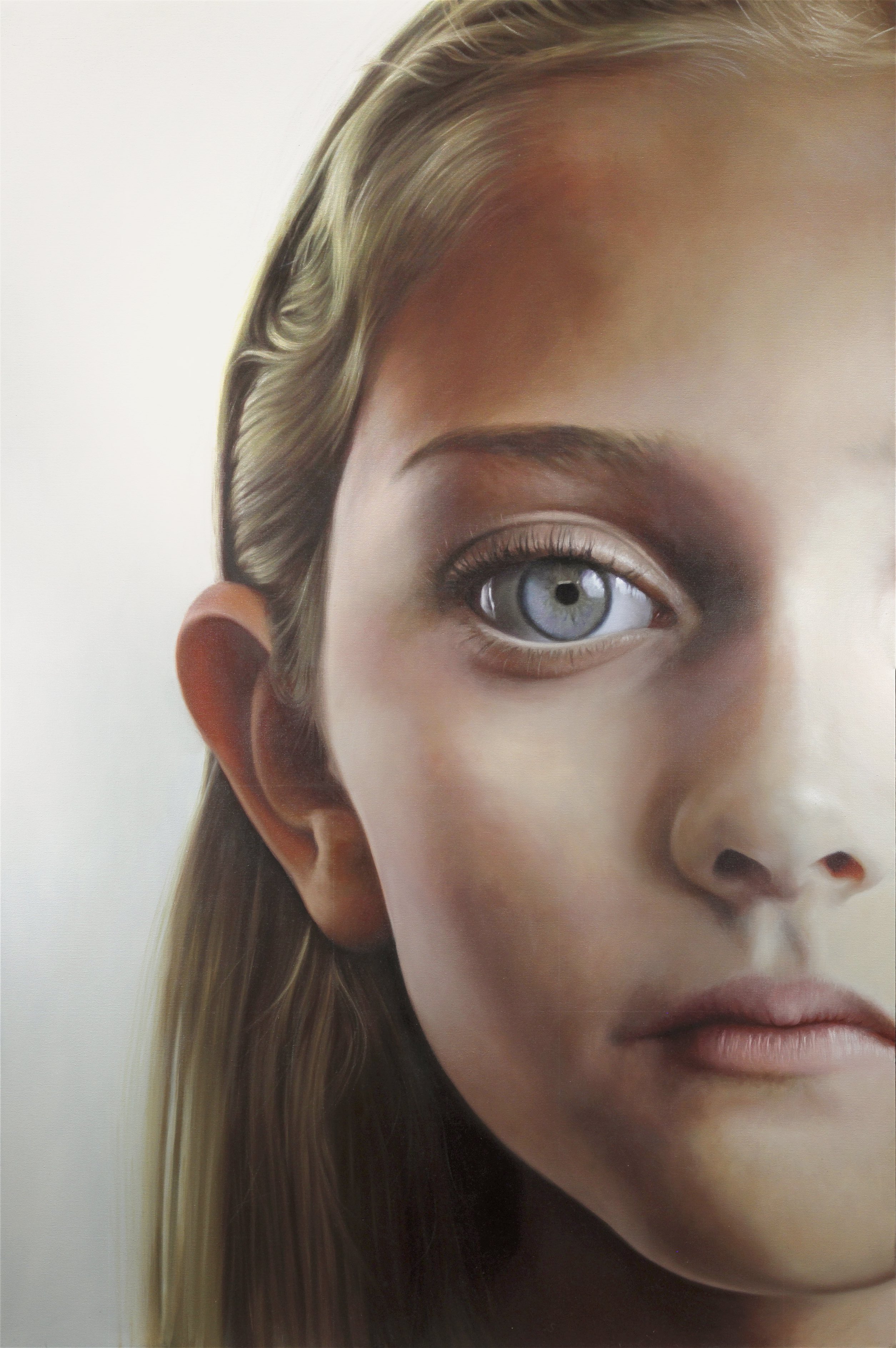 In keeping with his egalitarian style, Oliver has exhibited his work everywhere from lowbrow galleries to Las Vegas malls. Careful not to exclude anyone who appreciates his art, Oliver also offers a "pay-what-you-can" system for reproductions of his work on his website.
As a self-described kitsch painter, Oliver prefers to display his art before all audiences, disregarding various levels of education or familiarity with art history. Seeking to make art that can be seen and enjoyed by everyone, he employs representational painting because it's one of the few styles that has the ability to appeal to all viewers, fostering a response based on emotions and the senses rather than just the intellect.
"The journey of creating this body of work has exposed many of my weaknesses and fears, desires and aversions and also some deep layers of my suffering of loneliness and isolation," says Oliver. "I have used my painting as a kind of meditation and medication to release this suffering by allowing my vulnerabilities to come through with surrender and acceptance. I've focused my mindful awareness on feelings and ideas of space, equanimity, poise, balance, harmony, beauty, belonging, nurture, and interconnectedness, and I have honored these elements in my paintings."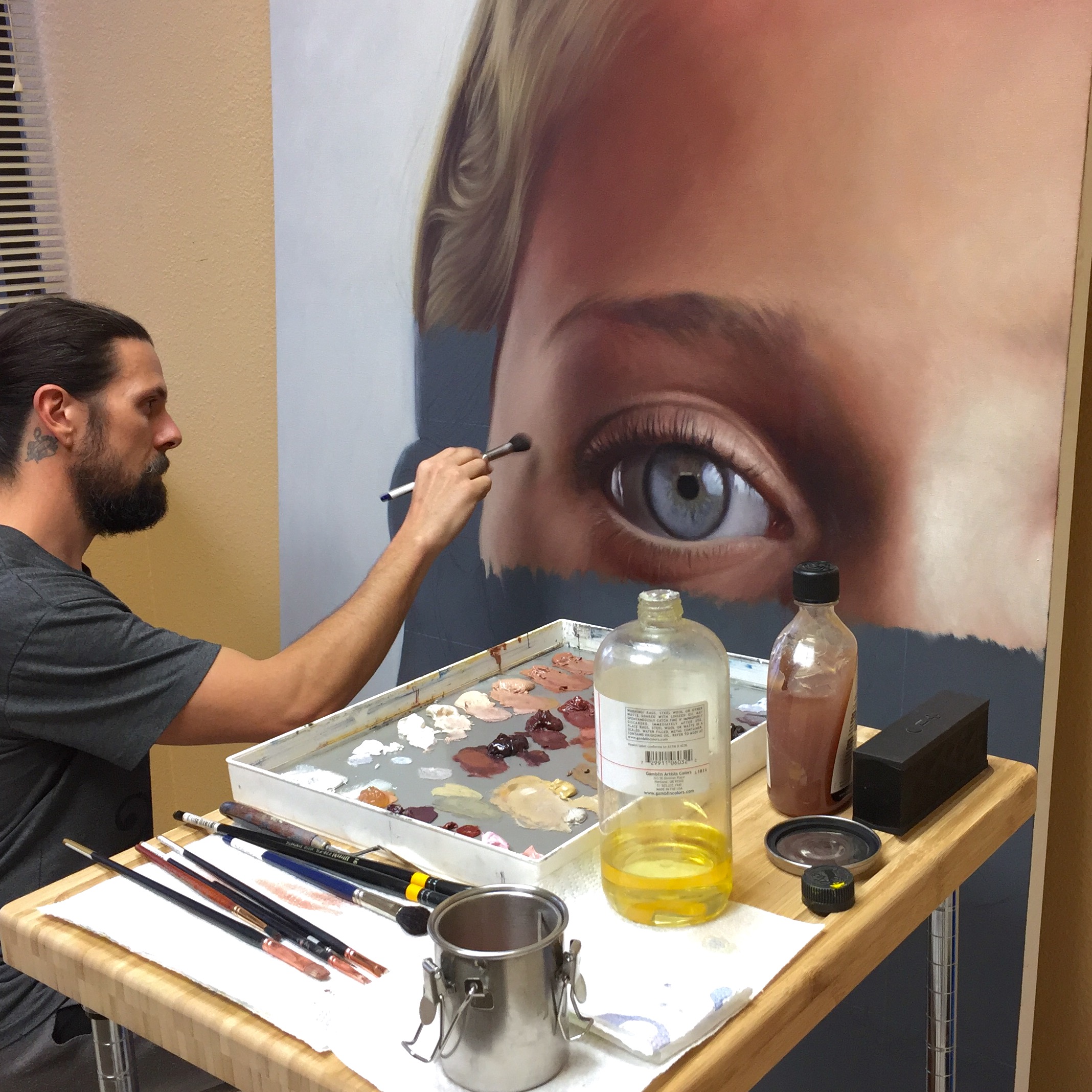 Richard J. Oliver's solo show Immersion is on view at Downtown Los Angeles' Corey Helford Gallery April 1—29. Follow the artist on Instagram, Facebook, and Twitter, and visit his website here.
Related:
'Antisocial Network' Oil Paintings Address the Irony of Alienation in the Age of Social Media
The Hindu Belief of Samsara is Examined in Modern Paintings | City of the Seekers
Goth-Inspired Paintings Blend Surrealist Dreamscapes with Nature | City of the Seekers
Source: vice.com