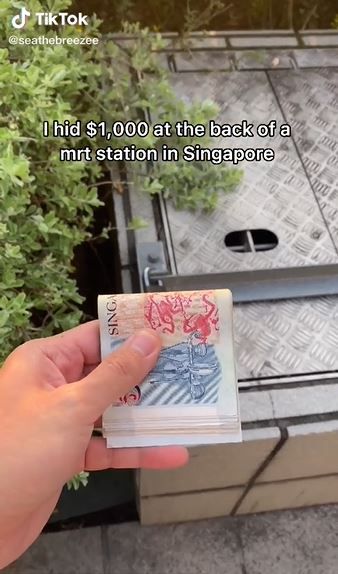 Many Singaporeans were prompted to go to the Pasir Ris MRT (Mass Rapid Transit) in the country after a TikTok user @seathebreezee posted a video of him claiming to have hidden S$1000 (about $742) in said place.
Posted on June 19, 2021, the first video shows the TikToker approaching the bushes before hiding US$742.85 (S$1,000), folded in a stack of smaller notes, somewhere on the ground.
The hiding spot wasn't in frame.
[…]
And before the video ends, the TikToker mentions that he will return to the exact location after three days, curious to see if anyone finds the cash.
Three days later, the TikTok user went back to the place where he hid the money, and was thrilled to see that someone found it, but left S$2.
He then posted another video claiming that he once again hid some money, but this time somewhere near a bus interchange station.
According to a Facebook post by Shin Min Daily News, at least seven people were seen gathering around the bushes, outside of the Tampines bus interchange.
However, after hours of searching, there was no money to be found, leading many to believe that the videos were fake.
(Image Credit: @seathebreezee/ TikTok/ Mashable)
Source: neatorama