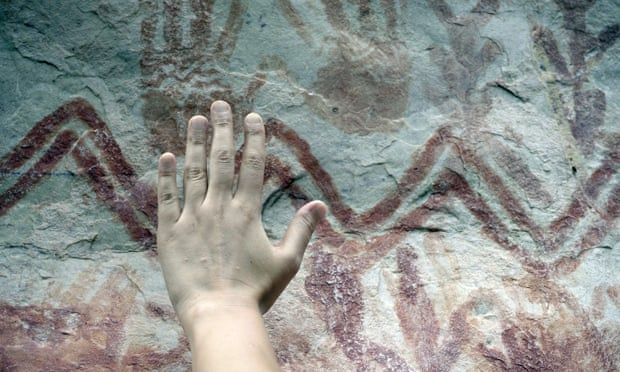 Archaeologists have found thousands of paintings of animals and humans across cliff faces in Colombia. This newly-discovered long stretch of prehistoric art is one of the world's largest collections of rock art, and hailed as "the Sistine Chapel of the ancients." Experts estimate that the paintings were created at least 12,500 years ago, as the Guardian details:
Their date is based partly on their depictions of now-extinct ice age animals, such as the mastodon, a prehistoric relative of the elephant that hasn't roamed South America for at least 12,000 years. There are also images of the palaeolama, an extinct camelid, as well as giant sloths and ice age horses.
These animals were all seen and painted by some of the very first humans ever to reach the Amazon. Their pictures give a glimpse into a lost, ancient civilisation. Such is the sheer scale of paintings that they will take generations to study.
The discovery was made last year, but has been kept secret until now as it was filmed for a major Channel 4 series to be screened in December: Jungle Mystery: Lost Kingdoms of the Amazon.
The site is in the Serranía de la Lindosa where, along with the Chiribiquete national park, other rock art had been found. The documentary's presenter, Ella Al-Shamahi, an archaeologist and explorer, told the Observer: "The new site is so new, they haven't even given it a name yet."
Image via the Guardian
Source: neatorama