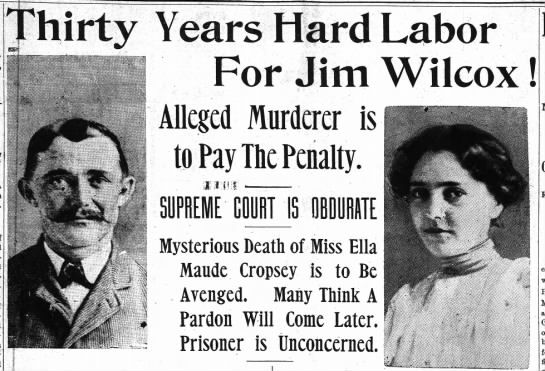 Nell Cropsey and Jim Wilcox became sweethearts soon after they met in 1898, when her family moved to Elizabeth City, North Carolina. By 1901, they were not yet married and began to tire of each other. Nell began to flirt with other men, and Jim wanted to break off the relationship. He did so on the night of November 20, which was also the last time anyone saw Nell alive. Jim swore he didn't know what happened to her, as he left her at her home after the breakup. More than a month later, her body was found. The murder investigation turned up some weird anomalies, but Jim Wilcox was tried for murder.
While the jury deliberated, there were numerous reports that if Wilcox was found not guilty, he would be kidnapped from jail and lynched.  It was even suggested that the jurors themselves would be in grave danger if they did not return the approved verdict.  To no one's real surprise, the jury voted for a conviction, and Wilcox was sentenced to death.  However, his lawyers, citing the extreme prejudice against their client in Elizabeth City, were able to win him a new trial in another county.  Wilcox was again found guilty, but this time merely for second-degree murder.  His life was spared, but he faced a long prison term.  As he was heading to the penitentiary, Wilcox told a policeman, "There is a little fire smoldering in Elizabeth City which might break out in three months, or it may be three years, but it will break out sooner or later, when the truth will be known which would then relieve me of the burden of somebody else's sin."
Jim Wilcox maintained his innocence for the rest of his life, and quite a few facts about the case raised questions about who really killed Nell Cropsey. Read about the case and the devastation it left behind at Strange Company.  
Source: neatorama