Special Encore Presentation: tick, tick…BOOM! and Post-Screening Conversation with Andrew Garfield, Robin de Jesús, Steven Levenson, Julie Oh, Alex Digerlando, and Tod Maitland
adriansantiago
Wed, 03/16/2022 – 12:39
FILM at LACMA presents classic and contemporary narrative and documentary films, artists and their influences, emerging auteurs, international showcases, special guest-curated programs, and conversations with artists and special guests.
LACMA members are invited to join FILM at LACMA for a special screening of tick, tick…BOOM!, followed by a conversation with featured talent Andrew Garfield and Robin de Jesús, writer Steven Levenson, producer Julie Oh, production designer Alex Digerlando, and production sound mixer Tod Maitlan.
Pulitzer Prize and Tony Award winner Lin-Manuel Miranda makes his feature directorial debut with tick, tick…BOOM!, an adaptation of the autobiographical musical by Jonathan Larson, who revolutionized theater as the creator of Rent. The film follows Jon (Academy Award nominee and Tony Award winner Andrew Garfield), a young theater composer who's waiting tables at a New York City diner in 1990 while writing what he hopes will be the next great American musical. Days before he's due to showcase his work in a make-or-break performance, Jon is feeling the pressure from everywhere: from his girlfriend Susan, who dreams of an artistic life beyond New York City; from his friend Michael, who has moved on from his dream to a life of financial security; and amidst an artistic community being ravaged by the AIDS epidemic. With the clock ticking, Jon is at a crossroads and faces the question everyone must reckon with: what are we meant to do with the time we have? tick, tick…BOOM! stars Academy Award nominee and Tony Award winner Andrew Garfield, Alexandra Shipp, Tony Award nominee Robin de Jesús, Tony Award nominee Joshua Henry, Emmy nominee MJ Rodriguez, Emmy Award winner Bradley Whitford, and Tariq Trotter, with Emmy and Tony Award winner Judith Light and Vanessa Hudgens. The film is written by Tony Award winner Steven Levenson, and produced by Academy Award winners Brian Grazer and Ron Howard for Imagine Entertainment, Julie Oh, and Lin-Manuel Miranda.
tick, tick…BOOM! is nominated for two Academy Awards including Best Actor (Andrew Garfield) and Best Film Editing.
You can watch the official trailer here. 
As an added bonus for this encore presentation, Netflix is pleased to share an additional previously recorded conversation featuring Andrew Garfield and Robin de Jesús.
You will receive a link to view the film and the post-screening conversations on the event date.
This screening is hosted by Slipstream, a LACMA-approved third-party screening platform. If you have not previously registered with Slipstream, you will be asked to provide a valid email address and set a password to create an account.
In case you missed them, you can revisit previously recorded Film at LACMA conversations with featured talent from 2022 Academy Award-nominated films including: Belfast, The Lost Daughter, West Side Story, Don't Look Up, The Power of the Dog, Summer of Soul (…Or, When the Revolution Could Not Be Televised), tick, tick…BOOM!, Audible, Lead Me Home, Robin Robin, and Three Songs for Benazir.
Short Title
Special Encore Presentation: tick, tick…BOOM!
Primary image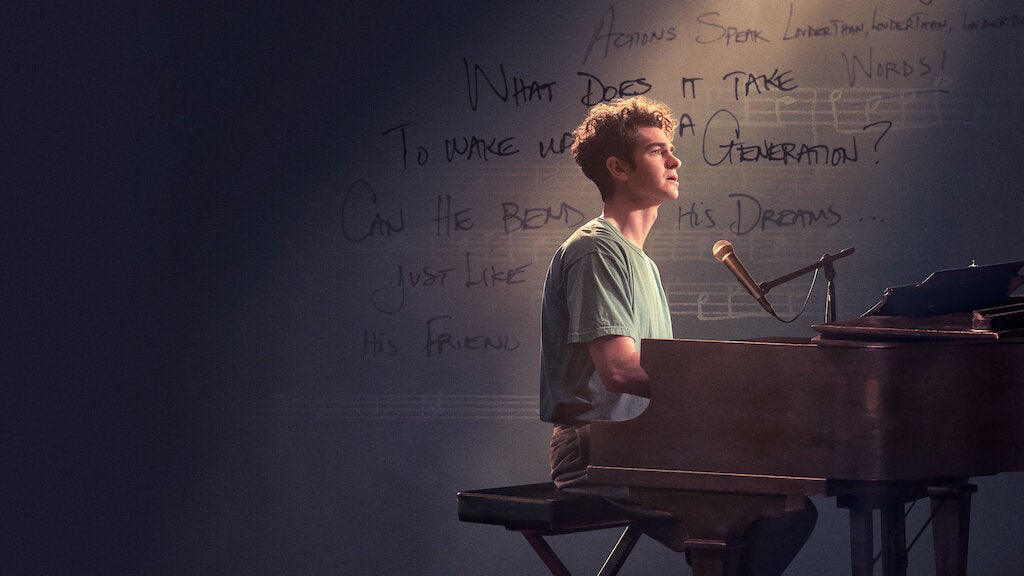 Mobile tile settings
Image tile format
Exhibition Format
On-sale time
Mon, 08/16/2021 – 10:07
Credit line – Left column
Image credit: Photo courtesy of Netflix
Module
Enable "Add to Calendar" button
On
Source: lacma.org