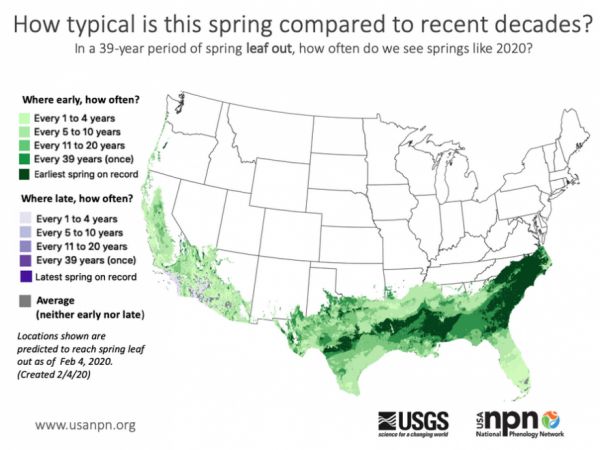 While we've seen some extreme winter storms over the past few years, you may have noticed that winter is shorter than it was, say, 20 years ago. Where I live, daffodils bloom and irises sprout normally in March, but this year both plants sprouted in January, which is concerning. According to the USA National Phenology Network, leaves and flowers across the South have appeared earlier than in the last 39 years, with some areas reporting the earliest blooms ever recorded.
The Weather Company forecasted February would see above-average temperatures in the Southeast this year, and the plants are already reacting. Reports from citizen scientists are already confirming the model's predictions. [research scientist Theresa] Crimmins said. And the Southeast isn't alone: Spring also arrived early in parts of the West, including Portland and Seattle. What's troubling about all this is that—hello!—we're still in winter, man. That means temperatures could still drop, which could devastate any plants that have already flowered.

"For the most part, if flower buds and open flowers are hit with a heavy frost, that's it for them," Crimmins said. "They could be injured to the point where they won't fruit and they won't put on subsequent flowers."
A killing frost after bloom could spell disaster for fruit crops, like when 80% of the Georgia peach crop failed in 2017. A disrupted cycle has implications for birds and insects as well. Read about the early spring stats at Earther.
(Image credit: National Phenology Network)
Source: neatorama