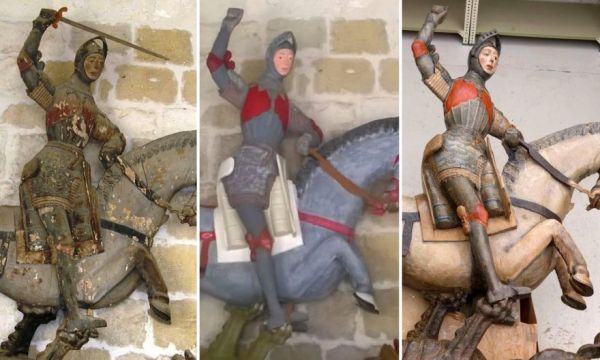 St. George has been restored- properly this time. Last year, in a story that echoes the famous Ecce Homo scandal, a 500-year-old painted wooden statue of St. George fighting the dragon at the Church of St Michael in Estella, Navarre, Spain, was "restored" by a local artist, with the results going all wrong, as you can see in the middle image. A year later, the statue has been restored by the Navarre government's historic heritage department. Carlos Martínez Álava, the agency's head, explained that experts had spent more than 1,000 hours repairing the paint job.  
"It's been a big effort economically as well," he said. "The archdiocese of Pamplona and the parish have assumed the costs, which have come to around €32,000 or €33,000 (about (£29,000). If they'd done things properly in the first place, it would have cost around €10,000 to €12,000. That mistake has ended up costing three times as much it should have. There was also a €6,000 fine they had to pay."

But he said he had been struck by the panic and remorse of those behind the botched job. "When it came in, what I noticed most wasn't just how inadequate the restoration had been, but how much the people responsible were suffering and how worried they were that there was no way of fixing it.

"Our cultural heritage needs to be looked after by people who are qualified and trained. We need to know our heritage as throughly as possible to protect it, and we need to be alert. The alarm in this case was raised by somebody in the town telling us what had happened."
The lesson here is that it never hurts to consult with experts before plunging into a project. Read more about the statue at the Guardian. 
(Image credit: Navarre regional government)
Source: neatorama